US Air Force in bombing exercise over North Sea
Comments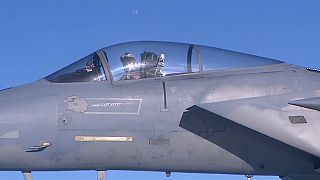 From bases in Britain, the US Air Force has been conducting wargaming exercises over the North Sea using B52 bombers capable of carrying nuclear weapons.
The exercises – aimed at enhancing NATO's capability – come as Russia has been conducting its own nuclear bomber exercises along the coasts of Norway and Britain, prompting both members of the North Atlantic alliance to scramble their fighter planes.
Once it's been refuelled in flight the B52's range goes way beyond Europe, onto the Middle East and across Asia. In fact it can reach anywhere in the world. And NATO's fighter jets can also be refuelled to extend their range.
As part of the exercises a British typhoon fighter jet was also refuelled. Last week an unknown number of British typhoons were scrambled to intercept two Russian nuclear-capable Blackjack bombers that came as close as 80 kilometres to the British coast.