Eastern horizons: Japan taps in to trade potential of EU's newer members
Comments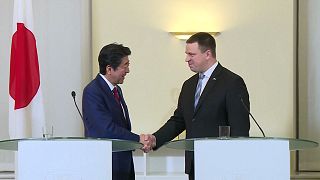 Historically, Japan has focused on the rich nations of Western Europe for trade and international relations, but increasingly Tokyo is broadening its horizons to discover the potential of the EU's eastern members.
Everything is data and everything is about being digitalised. That's Estonia. That's why we think Estonia is the best to collaborate with

CEO and founder, Planetway
Japanese Prime Minister Shinzo Abe began 2018 with an historic tour of six eastern European countries, bringing with him a delegation of dozens of Japanese business leaders seeking to promote economic and diplomatic relations.
Yomiuri Shimbun editorial: With Prime Minister Shinzo Abe's Eastern Europe visits, Japan should strategically expand diplomacyhttps://t.co/fBCby8K7eZ

— The Japan News (@The_Japan_News) January 17, 2018
Japanese and eastern European business collaborations span a wide variety of sectors, with each country offering a unique set of opportunities for Japanese investors, as well as the potential to export goods and know-how to Japan. A good example of this cooperation can be found in Estonia, which has gained the title of "most advanced digital society in the world". Planet way is a company that is set to revolutionise the way the Japanese private sector manages data.
Estonia's edge
In Estonia, 99% of
state services are online
using a tool called "E-Estonia". The backbone of the service is a data management platform called X-Road. 52,000 organisations use the service that deals with 500 million requests annually. The result is a saving of 800 years of working time in Estonia each year. Other countries including Finland, Namibia and Azerbaijan have followed Estonia's example. Now, a start-up led by a Japanese entrepreneur, inspired by the success of X Roads is developing its own data-management platform for use in the private sector.
"Planetway is basically a hybrid company between Estonia and the Japanese and also business and research and development," says CEO and founder Noriaki Hirao. "This is something… Estonia invented it and Japanese people kind of customise it and use it in Japan already. Every Asian country is like: 'Whoa, I want to use it.'"
"Estonia is the perfect example of coming to the point where they have like a total digital society already, probably one of the finest in the world," Hirao adds.
"They knew that they had the technologies but they didn't have the money, they didn't have the people, they didn't have the markets. What should they do? It's to basically (say), 'okay why don't we just have the best and the simplest society infrastructure'."
Hirao says the world is starting to realise everything should be connected and digitalised, "Everything is data and everything is about being digitalised. That's Estonia. That's why we think Estonia is the best to collaborate with."
Estonian Planet Way board member Raul Allikivi explains the potential impact of this technology:
"When you think about the future…like sensors and IOT (Internet of things), they will know much more about you than any government would ever know. But what we're thinking is basically this data should be preserved only in the database where it's created.
One data source and multiple secured connections means lower cost and improved security.
"What you do is, you want to share the same data, reuse the same data and just make sure that the linkages and the access is secure," says Allikivi.
Japan announces three-way pact with Baltic countries as Abe tours Eastern Europe https://t.co/PblSkOGGC8#JapanTimes#news

— WorldNews_net (@worldnews_net) January 15, 2018
Historic Partnership For a broader picture of the business and investment climate between Japan and Eastern Europe, Spotlight spoke to Norio Maruyama, Director-General for Press and Public Diplomacy at Japan's Ministry of Foreign Affairs.
"You know, it's the first visit by a Japanese prime minister to this part of the world. We have just concluded an economic partnership agreement between the EU and Japan. It's a partnership that really is historic, because it concerns 640 million people and it also concerns a third of the world's GDP," Mr. Maruyama said.
"Japanese businesses are very interested in coming to Europe – and particularly to this part of Europe – to promote exchanges and investment. Japanese businesses also recognise the high-quality labour this region has to offer, and that's an attractive asset.
"The Japanese have a deep sense of friendship with these countries, which will further foster trade between our countries," added Mr. Maruyama.
Bulgaria is also quickly becoming a production hub for Japanese businesses. Trade between Bulgaria and Japan in 2017 amounted to 125 million euros, the highest level since 2008. Japanese investment in Bulgaria is also expected to rise with the aforementioned EU-Japan Free Trade Agreement having been finalised last December.
Three Japanese companies are about to launch production in the country. Japanese automotive parts supplier Yazaki, who are opening a third plant, are expected to create a total of 8,000 jobs for the Bulgarian workforce.
Euronews visited Bulgaria's second largest city – Plovdiv where the Japanese Federation of Agricultural Cooperative Associations-Zen Noh is hoping to expand the market for frozen sushi in Europe. Its president, Shoichi Momose explained: "The fish comes from Norway and Scotland. So with Japanese rice and European fish, we'll produce our sushi here in Bulgaria. We bring the raw rice from Japan, we then take off the skin which whitens it.
"This is the how we preserve the rice's taste and stop it from drying out. The next step is to boil the rice and after that, half the work is done by the machines and half is done by hand. Once the sushi itself is done, we freeze it," he added.
"In Japan we also eat frozen sushi and we have plants that produce and prepare these types of rice-based meals. If the plant works well, we could expand it and recruit more people."
Ultimately, Japan's burgeoning interest in countries like Estonia and Bulgaria may help the EU re-balance its internal regional disparities in trade and diplomacy with the outside world.