'Black Lightning' electrifies discussion on superhero diversity
Comments
By Karu F. Daniels with NBC News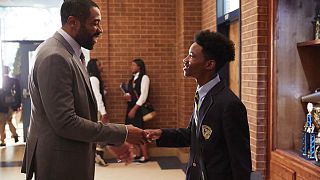 Copyright

Bob Mahoney The CW

-
The new CW series "Black Lightning" is striking — literally and figuratively — as a new superhero series unlike any ever seen before on prime time television.
A black superhero character isn't playing a strange sidekick, comic foil or interchangeable background figure; he is the lead — with supernatural powers. And he's one who loves black women, is a die-hard family man, a pillar of his community, and has relationships with merciless drug bosses.
This irreverent slice of African-American authenticity is offered up in the pilot episode of "Black Lightning," premiering Tuesday, Jan. 16 on the CW network.
A far departure from the typical superhero fare that has grown immensely popular over the past decade on the network — which airs popular sci-fi series "Supergirl," "The Flash," "DC's Legend of Tomorrow" and "The 100" — the Mara Brock Akil and Salim Akil-created one-hour drama takes on a more relevant and "woke" approach to subject matter tailor-made for today's television viewers: gang warfare, police brutality, political activism and even "black girl magic" (literally).
The show is based on the titular DC Comics character that debuted in 1977. It's recognized as the legendary comic book publisher's first African-American superhero to star in his own series and had several print resurgences throughout the past decades.
"Black Lightning" stars Cress Williams as Jefferson Pierce, a single dad trying to keep trouble at bay as a high school principal by day and as a reluctant, spandex-clad meta-human force of nature by night.
For Williams, a 25-year television veteran with memorable roles on "In Living Single," "E.R," "Friday Night Lights" and "Hart of Dixie," the series was long overdue — and very necessary.
"It was Mara who said 'because of the climate that we are in, this show is really needed,' so I think it's been like a perfect storm of everything that's been happening that has converged so that it makes it a perfect time for this show, for the world to see it," Williams, 47, told NBCBLK. "And not only one that they need to see, but that were hungry and ready for."
The positive critical buzz has added to the fervor.
Sci-fi entertainment website Collider praised the series, referring to it as "immensely popular," ultimately giving it a perfect five-star review.
Critic Dominic Patten of Deadline.com extolled "Black Lightning's" virtues, pointing out how the "series so successfully turns the whole costumed crusader notion and execution upside down in the most heartfelt and harshest manner."
"I mean the WB had plenty of black leads but at the CW, this was the first time," Williams said. "I hope that this sparks a change where we never go back."
Born in Germany, Williams recalled first becoming a fan of superhero culture by way of Christopher Reeve's landmark turn as "Superman" in 1978. As a 6-foot-4-inch, physically fit thespian, he's auditioned for superhero roles that eventually went to other actors. But he had a different feeling about "Black Lightning."
"I've had misses [and] near misses, as far as getting an opportunity to play a superhero, so I was just kinda like, 'Okay, I'm going to keep my eye on that 'cause I'm really excited about it.' And then I was getting chills as I was reading the script. I was like, 'Oh my goodness, this is so good,'" he said.
With the growing anticipation of Disney-Marvel's "Black Panther" next month, it is not lost on Williams that "Black Lightning" has perfect timing as part of a discussion about diversity in the sci-fi genre.
"I hope that this will spark conversation about what's going on in our world, and I hope that it will change their appetite for what they want their television to be," Williams said. "Television, itself, can be entertaining, it can be fun, but it also can provoke thoughts, it can provoke emotions, it can spark debate, it can show us what life is and then challenge us to ask for better. I hope that that's what it does for the audiences."