Turkey freedoms hit after 'deeply-flawed constitutional referendum'
Comments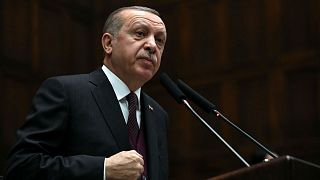 Turks' freedoms have been hit since President Recep Tayyip Erdogan tightened his grip on power last year, a new report has claimed.
Erdogan triumphed in a referendum last April that saw Turkey switch from a parliamentary to a presidential republic.
Freedom House, an organisation that promotes democracy and human rights, downgraded Turkey in its 2018 report from "partly free" to "not free".
It said since Turkey's "deeply-flawed constitutional referendum" citizens were left "hesitant to express their views on sensitive topics".
Globally the watchdog said democracy was facing its most serious crisis in decades as basic freedoms came under attack.
It claimed political rights and civil liberties had suffered net declines in 71 countries, while just half that number registered gains.
'Democracy is in crisis'
"Political rights and civil liberties around the world deteriorated to their lowest point in more than a decade in 2017, extending a period characterized by emboldened autocrats, beleaguered democracies, and the United States' withdrawal from its leadership role in the global struggle for human freedom," said Freedom House president Michael Abramowitz.
"Democracy is in crisis. The values it embodies—particularly the right to choose leaders in free and fair elections, freedom of the press, and the rule of law—are under assault and in retreat globally.
"A quarter-century ago, at the end of the Cold War, it appeared that totalitarianism had at last been vanquished and liberal democracy had won the great ideological battle of the 20th century."
How is Europe faring?
The EU and western European countries were all rated "free" in the report, with Finland, Norway and Sweden all getting a perfect 100 score.
But the organisation sounded the alarm over Poland and Hungary claiming "populist leaders continued to consolidate power by uprooting democratic institutions and intimidating critics in civil society".
Bosnia and Herzegovina, Montenegro, Kosovo, Albania, FYRO Macedonia, Moldova and Ukraine were ranked as being "partly-free".
Russia, Turkey and Belarus were among the countries said to be "not free".
Reasons for European optimism?
Freedom House singled out FYRO Macedonia as one of the countries to watch over the coming months.
"A democratically-elected, ethnically-inclusive government is seeking to root out corruption and other systemic abuses that grew worse under its scandal-plagued predecessor, and it could even resolve the lingering 'name dispute' with Greece that has impeded the country's path toward EU membership," the report said.
It comes as a United Nations mediator said there was "positive momentum" towards settling a 27-year dispute between Athens and Skopje over the ex-Yugoslav republic's name.
The row over the name of the former Yugoslav Republic of Macedonia (FYROM), as it is formally known, has held up its prospects of joining both the European Union and NATO.
Macedonia took that name when it became independent in 1991 following the break-up of Yugoslavia. Greece has challenged it since, saying it implies territorial claims to the Greek region of the same name and of the ancient Greek kingdom ruled by Alexander the Great.