North Korea didn't react to false Hawaii missile alert, Mattis says
Comments
By Hans Nichols with NBC News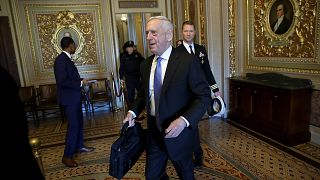 Copyright

Win McNamee Getty Images

-
There is no indication that North Korea reacted after the Hawaii Emergency Management Agency mistakenly sent an alert Saturday warning of an imminent ballistic missile strike against the islands, U.S. Defense Secretary Jim Mattis said Monday.
On Saturday morning local time, thousands of tourists and residents in Hawaii received mobile alerts on their phones that a missile would soon be impacting the state. With tensions high over the regime's ballistic missile program and President Donald Trump recently warning North Korea's leader, Kim Jong Un, that he has the bigger "nuclear button," the false alarm prompted panic that Hawaii was the target of an attack from North Korea.
Although state officials were told by U.S. Pacific Command that the warning was sent in error, Hawaii's EMA didn't correct the faulty message for 38 terrifying minutes.
Asked by NBC News if Kim reacted to the false alarm, Mattis said, "No. There is no information like that that I have."
Speaking with two reporters aboard a military aircraft en route to a diplomatic summit on the rogue nation in Vancouver, Canada, Mattis also said there wasn't any sign that North and South Korea used their newly reactivated communications hotline to clarify that North Korea had not, in fact, fired upon the U.S. territory.
Mattis also expressed confidence that authorities in Hawaii would fix their warning system after the ensuing distress over the false alert turned to anger.
"The state of Hawaii has taken full ownership of the problem. I think that they'll figure it out," Mattis said. "I am confident they have good people there in the state government and they'll figure out what went wrong and they will put procedures in place."
The Pentagon chief is participating in the summit of foreign ministers in Vancouver to clarify and elaborate what sort of military options could be used if the diplomatic pressure on North Korea to give up its nuclear ambitions fails. The United Nations Security Council has passed three rounds of sanctions against North Korea for testing ballistic missiles and, in November, an underground nuclear weapon.
"The whole point is to reinforce the diplomatic options and to show that there are military options should there be a DPRK attack," Mattis said, referring to North Korea by the country's official initials, which stand for the Democratic People's Republic of Korea.
"We'll show them that there are military options," he added. "But it is all couched within a framework of strengthening the diplomat's hands."
Earlier this year, North and South Korea used a communications hotline for the first time in two years. As a result of initial moves, the North may send an ice-skating delegation to the winter Olympics, hosted by South Korea next month, as well as a 140-member orchestra.
Trump has said he is open to U.S. talks with North Korea at "the appropriate time."
On Monday, Mattis called the nascent talks between North and South Korea "a positive indicator," but said it was too early to determine Kim's intent.
"I don't think we have sufficient data to say what this indicates as far as the way forward by the Kim regime," he said. "We just don't have enough data yet, but I think it is a positive indicator."