Female priests join #MeToo movement in Iceland
Comments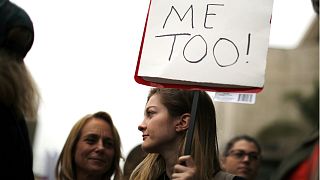 Women priests in Iceland today published a statement in support of the #metoo movement, signed by 65 clergywomen.
It was accompanied by 64 anonymous accounts of gender-based violence and discrimination in the country's church.
The statement called out gender-based violence, harassment and discrimination against female members of the priesthood at the hands of officers, colleagues, volunteers and those who make use of the Church's services.
"These narratives of prestigious women working in the national church show black in white that change is needed," it read.
Accounts ranged from verbal abuse to sexual assaults and violence.
The statement recognised that the church had made efforts to establish policies and solutions to improve the treatment of women but emphasised the testimonies of clergywomen meant that progress still needed to be made.
It called on the Bishop of Iceland to reform the working environment of women in the church.
Bishop of Iceland Agnes M. Sigurðardóttir published a letter in response in which she said she was "grateful" to the women that had shared their experiences and that their request was "fair and normal".
"I will make every effort to improve the working environment of women and the relationship between people in the church community," Sigurðardóttir said.