Settlement reached in NYPD religious facial hair policy lawsuit
Comments
By Chris Fuchs with NBC News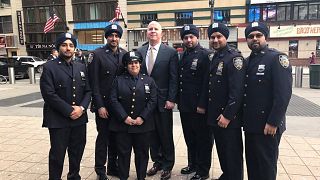 Copyright

Courtesy of the Sikh Officers Association

-
A settlement has been reached in a class-action lawsuit brought by a Muslim police officer who alleged that the New York Police Department's (NYPD) former no-beard policy was unconstitutional.
News of the proposed agreement, detailed in court papers filed in Manhattan federal court on Jan. 2 by attorneys for Officer Masood Syed, comes a little more than a year after the NYPD revised its regulations to allow officers to grow facial hair for religious reasons.
That policy change stemmed from a class-action complaint that Syed, a practicing Sunni Muslim, filed on June 22, 2016, one day after being suspended without pay or benefits for refusing to trim his beard to 1 millimeter, or .04 inches.
Following a hearing before a judge, the NYPD soon reinstated Syed and promised to undertake a 120-day internal review of its facial-hair policy.
The revised rules, issued on Dec. 30, 2016, allow for uniformed members, including those assigned to the Traffic Enforcement District and School Safety Division, to grow facial hair no longer than a half inch for religious beliefs. Members must have written approval from the deputy commissioner of Equal Employment Opportunity.
Requests for lengths greater than that are to be reviewed and decided case-by-case through an interactive process, the policy reads.
"We are pleased with the resolution of this case," a city Law Department spokesman said in a statement. "The agreed upon reforms balance the operational needs of the police department with the religious beliefs and needs of officers."
Syed reacted to the settlement in a statement through Beldock Levine & Hoffman, a law firm representing him in the class-action suit.
"I'm hopeful that this settlement will allow current and future NYPD officers to feel free to express their religious beliefs openly and without fear of retaliation," Syed said.
The Jan. 2 court filing said the city will pay Syed's attorneys' fees and costs. The settlement also calls for an 18-month review period to monitor the religious accommodation process for facial hair.
Before the guidelines were revised, the NYPD prohibited beards of any length, though unwritten policy permitted them up to 1 millimeter for religious accommodations, Syed's lawsuit said. Syed, who is also a lawyer, claimed many NYPD officers have beards longer than that, according to court documents.
Beards were forbidden because they interfered with wearing gas masks. The updated policy says members with a religious accommodation or medical exemption to grow facial hair are ineligible to receive training or certification in the use of a tight-fitting air purifying respirator. As a result, they cannot be assigned to a unit or position that requires use of such a device.
Asked to comment on the proposed settlement, the NYPD in an email referred NBC News to the section of its patrol guide entitled "Performance On Duty — Personal Appearance," which discusses facial hair, including a religious accommodation for beards.
Syed, a Pakistani American working as a law clerk for the NYPD's Deputy Commissioner of Trials, received a medical accommodation for his beard after joining the NYPD in 2006 and later submitted a religious accommodation request, his lawsuit said.
Looking to avoid any trouble, he later signed a required document in 2011, saying he would keep his beard no longer than 1 millimeter, even though other officers had beards that were longer, according to court papers.
For four years, Syed continued wearing his beard at ½ inch to 1 inch in length, his lawsuit said. August of 2015 was the first time a supervisor told Syed he was out of compliance with NYPD policy, court papers allege.
In June 2016, Syed's supervisor told him to report to the I.D. Unit to have a photo taken for a new identification card, according to his lawsuit.
A sergeant assigned to the I.D. Unit asked Syed for a religious accommodation letter for his beard, which he filed for in December 2015, according to court documents. But because the letter was still pending, the sergeant contacted Syed's supervisor, who then allegedly instructed Syed to shave his beard entirely, the lawsuit said.
When Syed refused, his supervisor immediately suspended him without pay, took his gun and badge, and had him escorted from One Police Plaza, court papers said.
Roughly a week later, he was restored to full-duty as the NYPD undertook a review of its facial-hair policy, according to court papers.
The new guidelines, issued Dec. 30, 2016, also allowed NYPD officers to wear turbans in place of the traditional police cap. Male observant Sikhs often cover their heads with turbans — which are considered sacred — and refrain from shaving their beards.
A federal judge still needs to sign off on the proposed settlement agreement in the class-action lawsuit before it becomes official.
Follow NBC Asian America on Facebook, Twitter, Instagram and Tumblr.