NBA: Timberwolves comeback to beat Nicks
Comments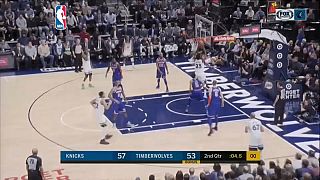 Karl-Anthony Towns fell one assist shy of his second career triple-double, scoring 23 points and grabbing 15 rebounds in the Minnesota Timberwolves' NBA victory over the New York Knicks.
Taj Gibson added 17 points and Andrew Wiggins had 16 for Minnesota. Kristaps Porzingis scored 17 points for New York, while Enes Kanter had his 18th double-double with 16 points and 11 rebounds.
The Knicks were the hot-shooting team in the first half and led by as many as eight points.
But Towns scored the first five points of the second half and slowly the Wolves' defence recovered.
The Knicks led right into the fourth, before Minnesota went on an 18-4 run to seize control and go on to win 118-108.
It was their fourth game in a row and 11th win of 14 overall, leaving the Knicks with their ninth loss in 11 games.