Why the 'All the Money in the World' pay gap is the worst thing for Hollywood
Comments
By Elizabeth Chuck with NBC News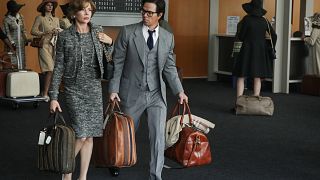 Copyright

Fabio Lovino TriStar via AP

-
The film "All the Money in the World" didn't live up to its title when it came to paying actress Michelle Williams — an uncomfortable revelation at a time when Hollywood is still trying to find its footing in treating women fairly, experts say.
Fans and Hollywood elite alike were reeling Wednesday after USA Today reported that a hasty reshoot of the thriller earned actor Mark Wahlberg an additional $1.5 million, while his female co-star Williams simply got an $80 per diem, adding up to less than $1,000.
"Please go see Michelle's performance in All The Money in The World. She's a brilliant Oscar nominated Golden Globe winning actress. She has been in the industry for 20 yrs. She deserves more than 1% of her male costar' s salary," tweetedactress Jessica Chastain.
"This is so messed up that it is almost hard to believe," wrote director and producer Judd Apatow.
Those who study the intersection between gender politics and pop culture called it a humiliation for the production company and a black eye for Hollywood.
"The optics are terrible. There's no two ways about that," said Dr. Amy Peloff, a feminist historian, a media studies scholar and an affiliate assistant faculty member of gender, women and sexuality studies at the University of Washington.
Peloff said the situation was made worse by the reason why "All the Money" was reshot in the first place: After Kevin Spacey, who originally starred as billionaire J. Paul Getty in the based-on-a-true-story film, was accused of a slew of sexual misconduct abuses against young men, director Ridley Scott replaced him with actor Christopher Plummer.
Scott told USA Today in December that, while he paid the crew and Plummer for the reshoot, he, Williams and the other actors were willing to do their scenes for free. But the newspaper reportedlate Tuesday that it had "since learned Wahlberg's team actually negotiated a hefty fee, with the actor paid $1.5 million for his reshoots. Williams wasn't told."
Williams had told USA Today earlier: "I said I'd be wherever they needed me, whenever they needed me. And they could have my salary, they could have my holiday, whatever they wanted. Because I appreciated so much that they were making this massive effort."
It's unclear whether Williams, who is represented by the same talent agency as Wahlberg but has a different agent, would have made the same decision had she known that her male co-star was pulling in $1.5 million for the reshoot. NBC News was not able to confirm USA Today's report and did not receive a response from Wahlberg, Williams or the agency that represents both of them, William Morris Endeavor.
Regardless, experts say, a huge pay gap between a male and female star is exactly what Hollywood doesn't need right now as it struggles in the wake of sexual harassment allegations against producer Harvey Weinstein and other prominent men in the industry.
"This seems like another way to tell women that their worth isn't the same as men," said Dr. Adrienne Trier-Bieniek, a qualitative researcher who examines the connection between pop culture and social inequality.
"The thing with pay inequality is it's one branch on the power tree," she said. "While they were aware that they needed to remove Kevin Spacey, they clearly weren't thinking the big picture of 'if we remove him and then people become aware that we're paying another person less, what are they going to think about that?'"
The news comes days after actresses showed up to the Golden Globes dressed in black in solidarity against sexual violence. Many wore pins that read Time's Up, the name of a new coalition in Hollywood that aims to end the prevalence of sexual harassment that led to the #MeToo movement and to create gender equality.
Marvet Britto, a public relations and brand strategist, said the "All the Money" pay disparity doesn't dilute the movement. If anything, it fuels it, she said.
"It further shows the reason why these kinds of movements are needed to bring attention to the injustices and the disparities that exist between the genders, the staggering pay gap that exists across every business discipline," she said.
Last year, Forbes magazine named Wahlberg Hollywood's highest-paid actor. Britto said it was important to acknowledge that it wasn't clear whether Walhberg or his team negotiated the reshoot salary, and said he shouldn't be portrayed as the "poster child" for pay gaps between the genders.
But Peloff, the feminist studies and media historian, said Wahlberg needed to take action.
"He should donate the money to Time's Up," she said. "That's really the only thing he could do at this point to make this situation OK."