Dashed hopes, upended lives as Trump ends protection for Salvadorans
Comments
By Suzanne Gamboa with NBC News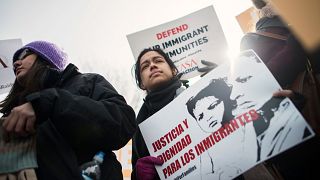 WASHINGTON - Hopes were dashed Monday for tens of thousands of people from El Salvador who have lived more than a decade in the U.S., but whom the Trump administration said must leave the country next year.
"My children are calling me saying, 'Mommy what are we going to do?' I don't know." said Maria Luz de Recinos of Annapolis, Md., who raised her three children here. None have permanent legal status in the U.S.
The administration announced Tuesdaythat roughly 200,000 Salvadorans with Temporary Protected Status, TPS, have until September 9, 2019 to leave.
The decision upends the lives of many Salvadorans whose initial 18-month stay, granted in 2001, became years here as their TPS was extended again and again during the Bush and Obama administrations.
The Trump administration's move also puts in limbo some of the 190,000 or more of their U.S.-born children of the Salvadorans.
Temporary protected status is a form of humanitarian relief that allows recipients to remain here, even if they arrived undocumented, and work until it is safe to return to their country. It's generally good for six to 18 months but can be renewed by the president.
The TPS Salvadorans now have was granted in 2001 by then President George W. Bush after two powerful hurricanes hit El Salvador.
Salvadorans are the latest group with TPS to get notice that their relief would not be extended.
The administration also has ended TPS for Haitians, effective July 22, 2019 and Nicaraguans, effective Jan. 5, 2019. The Department of Homeland Security extended TPS for Hondurans for six months and will decide then whether to end it.
Monday's announcement drew swift reaction in Congress, from Latino groups and advocates. Immigration hardliners applauded the decision.
Florida Republican Rep. Mario Diaz-Balart said he is in "strong disagreement" with the decision for Salvadorans because the country still faces problems with drug trafficking, gangs and crime. DHS should reconsider all of its recent TPS decisions, he said.
House Minority Leader Nancy Pelosi, D-Calif, said the decision delivers a "heartbreaking blow" to Salvadorans "who are American in every way."
"Congress now has a moral duty to provide permanent security for the patriotic, hard-working Salvadorans who contribute to our nation in every way, before the 18-month deadline expires," Pelosi said in a statement.
Salvadorans could become bargaining chips in Congressional negotiations like the young immigrants with DACA.
Trump has said he wants funding for a border wall in exchange for providing some way for young adults with DACA to stay in the U.S. He has made other demands for immigration, including $18 billion for the border wall, which has rankled Democrats.
"The wall is going to happen, or we're not going to have DACA," he said.
Homeland Security Secretary Kirstjen Nielsen said in a statement announcing the end of TPS for Salvadorans that the 18-month delay gives Congress time to craft a potential legislative solution. People with TPS can only apply for legal residency if they marry a U.S. citizen or they are sponsored for one by an employer or their child, who must be at least 21 years old.
Groups wanting to severely curb immigration have long opposed extensions of TPS.
Karla Alvarado, a nursing supervisor in a Philadelphia area home health care office, said she hadn't been active in immigration protests until recently but will be fully involved now. Since her arrival in the U.S., she has gotten her nursing degree and worked her way up from a pediatric nurse to nursing supervisor, growing with her company that went from 10 to about 40 employees, including her.
She has TPS but married a U.S. citizen in September. She skipped making plans for a ceremony and reception to get married sooner, in case the Trump administration ended her TPS. She has applied for residency, which she should have before it ends. But her mother has TPS and may have to leave.
"I feel rejected," she said. "We work so hard. We pay Social Security ... If I get fired I don't have unemployment ... We try to do everything the right way. I feel rejected like, okay we just used you, now you can leave."
Nielsen, the Homeland Security secretary, said in a statement that conditions caused by the 2001 earthquakes no longer exist in El Salvador, so under law the TPS must end. El Salvador received aid to rebuild after the quakes, reconstruction projects are complete, schools, hospitals and homes have been rebuilt and money provided for repairs to infrastructure, Nielsen said.
"The substantial disruption of living conditions caused by the earthquake no longer exist," she said.
But other conditions exist namely drug carte and organized crime violence that have led tens of thousands of children and families to trek to the U.S. border and request asylum there.
Sending hundreds of thousands of people who may not speak Spanish well, whose children likely speak English, where there are few jobs will make them easy prey for gangs and criminal networks either for extortion or recruitment, said Shannon O'Neil, a fellow with the Council on Foreign Relations and Latin America expert.
Salvadorans in the U.S. sent back $3.7 million back to families and their communities in El Salvador last year, a 10.4 percent increase over 2017 and represents 17.1 percent of its Gross Domestic Product, according to El Salvador's embassy.
"It is bad policy to rip them out of this social place they've been embedded in," O'Neil said. "It also will be destabilizing."
De Recinos said being unable to work in the U.S. and to send money home will greatly affect her family in El Salvador.
"I've never had a bad intention for this country. On the contrary, I'm grateful it opened the door for me and I'm here and for that reason I respect and appreciate this country," de Recinos said. "Nevertheless, I disagree with the injustice it's handed us."
She and her husband have paid a mortgage and taxes for 12 years. She said she would not go into hiding if Congress failed to pass a law providing a way to stay in the U.S.
"I am not a criminal," she said.