Boxing champ faces his biggest fight yet — against deportation
Comments
By Saphora Smith with NBC News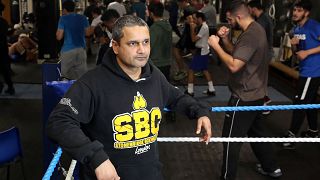 Copyright

Susannah Ireland for NBC News

-
CRAWLEY, England — As an amateur boxer, Bilal Kelvin Fawaz bled in the ring for England while competing for his adopted homeland six times. He proudly notes that he never lost.
But British authorities now want to deport him to Nigeria, where he was born.
Covered in tattoos and with a diamond nose piercing and sparkling eyes, the 29-year-old Fawaz spent five weeks over the Christmas season in an immigration detention center before being released on bail Tuesday.
Fawaz, who has lived for more than half of his life in the U.K., now finds himself in limbo.
"I feel abandoned, I feel worthless, I feel depressed," he told NBC News. "How can you represent a country six times and then they want to deport you?"
In 2012, Fawaz was crowned the Amateur Boxing Association of England's light-welterweight champion.
Two years later, the English boxing manager and promoter Frank Warren offered Fawaz a professional contract. But he was forced to turn it down because of his immigration status.
"He's lived a life of holding a lottery ticket and not being able to cash it in," Fawaz's manager, Aamir Ali, said, while surrounded by cardboard boxes filled with Fawaz's clothes and possessions in his office at the Stonebridge Boxing Club in north London.
Born to a Beninese mother and a Lebanese father, Fawaz was brought to the U.K. at 14 by his uncle. On arriving in London in 2002, Fawaz was left with a family who he says regularly beat him and would refuse him food. "I was told my dad would come for me, but he never did," he said.
The teenager eventually fell into the hands of the British social services system. Fawaz was granted temporary leave to remain in the country until the age of 18 and was passed from foster home to halfway house.
According to his immigration lawyer, Aisha Bakht Noor, Fawaz then waited four years for the authorities to review his case, by which time he had committed a string of crimes.
While he has never served a custodial sentence, he has been convicted of 15 offences including possession of drugs, theft, driving without insurance and drunken driving, Noor said. His bid to stay in the U.K. was later denied. Ever since then he has continued to apply for status to remain in Britain, while trying to establish his nationality.
Fawaz says Nigeria rejected his application for citizenship because neither of his parents are nationals. He is also not eligible for British citizenship.
Fawaz discovered boxing about 12 years ago, and by all accounts he is formidable in the ring. "He is an immense talent — tremendous speed, boundless stamina, good punch, good punch variety and also creative in the boxing ring," said Ronald McIntosh, who covers Olympic boxing for the BBC.
Fawaz is known for his "Superman punch" — which involves lifting both feet off the ground and throwing a shot in midair. Though against the rules, McIntosh says it demonstrates the fighter's inventiveness in the ring.
Those around him say he is dedicated to the sport and that it has, for the most part, helped him stay out of trouble.
Noor, the lawyer, said Fawaz has had no convictions since 2014.
"When he got into boxing, he started concentrating on his career and began to leave his life of crime behind," she said.
Before being detained in November, Fawaz was living at Ali's boxing club. Fawaz said he was training in the gym when two undercover police officers and eight in uniform burst in to arrest him.
Fawaz says he did not try to fight them off. "I just put out my hands."
As the regulars filed in for evening practice one recent Friday, several popped their heads into Ali's office to ask about the progress of Fawaz's case. Stale sweat hung in the air and punching bags swung in rows under florescent white lights.
Every three minutes an alarm went off, punctuating the practice and marking the completion of a round of sparring. Ali said Fawaz would often sleep in a ring in a corner, joking that it was more comfortable than the small two-seater sofa in his back office.
Ali said that while the boxing club could not legally employ Fawaz, he would often help out cleaning equipment or training younger athletes. His coaches and friends would chip in what they could to make sure he had enough money to buy food and basic necessities.
Fawaz says he applied for permission for stay in Britain on humanitarian grounds and also sought work and spousal visas, having married his long-term girlfriend, who is a British citizen. But all of his applications have been refused by immigration officials.
After 15 years of living in the U.K., Fawaz says he feels it is his home. "I've been here half my life now, more than half," he said, adding that his cultural beliefs and identity are rooted in British society.
Related: Germany grapples with integration after opening its borders
Fawaz says he has also unsuccessfully tried to obtain Nigerian, Lebanese and Beninese citizenship.
"By definition I am stateless," he said. However, British authorities disagree and in August also declined to give him that status.
Britain's Home Office — the agency responsible for immigration — confirmed that Fawaz had made a number of immigration applications that had been rejected and noted that he has a criminal record.
"When someone has no leave to remain in the U.K., we expect them to leave the country voluntarily. Where they do not, we will seek to enforce their departure," a Home Office spokesperson said.
Britain's immigration process has come under fire in recent years following reports of swoops on undocumented people and questionable conditions in removal centers.
Authorities have also been criticized for locking up stateless people for long periods of time even though there is nowhere they can be deported to.
The larger issue of immigration has also been central to the debate surrounding the U.K.'s decision to leave the European Union, with pro-Brexit groups campaigning on the idea of 'taking back control' of Britain's borders.
Ali, the coach, believes British authorities should reconsider Fawaz's case because his story could inspire young people with similar tough upbringings. "This is a kid who has used sport to further his life," he said.
Ali fears what will become of Fawaz if he is forced to return to Nigeria.
"What you're sending back is a dead man walking," he said. "He doesn't have the tools to live in the country."