U.S. man held as 'enemy combatant' in Iraq lawyers up
Comments
By Tracy Connor with NBC News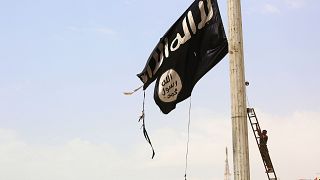 Copyright

Delil Souleiman AFP - Getty Images file

-
A U.S. citizen being held in Iraq as an enemy combatant wanted the ACLU to represent him and fight his detention, the civil liberties group said in a court filing Friday.
A federal judge last month ordered the government to let the unidentified man — who was picked up on a Syrian battlefield in September and accused of fighting for ISIS — speak to lawyers.
As a result, ACLU attorney Jonathan Hafetz said, he and two colleagues went to the Pentagon on Wednesday and spoke with the man via a secure, unmonitored videoconference.
"Basically, the government for the last three months has fought tooth and nail to prevent a U.S. citizen from speaking to a lawyer and having his day in court," Hafetz said.
"When finally given the opportunity to speak, his message was loud and clear: I want my day in court and I want the lawyers of the ACLU to represent me to secure my freedom."
In its motion filed in federal court in Washington, D.C., the ACLU asks for the government to respond by Jan. 10 to a habeas corpus petition and reveal its justification for holding the detainee without charges.
"He's been held unlawfully and he wants the opportunity to demonstrate there is no basis to hold him and he wants his release if there is no basis to hold him," Hafetz said.
"The bottom line is the government has to defend its detention."
The Defense Department confirmed the videoconference took place. The Justice Department said it was still reviewing the ACLU's filing.
The ACLU also wants the court to ensure that the Pentagon doesn't simply transfer the man to Iraqi custody or to another country, putting him out of the reach of the U.S. justice system.
Little is known about the man. The Washington Post has reported that although he has ties to the Pacific Northwest, his family's roots are in the Middle East. He reportedly also has citizenship in Saudi Arabia.