Carmen gets a makeover to highlight violence against women
Comments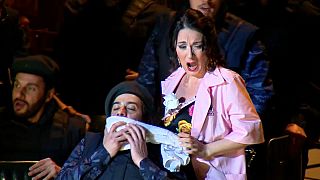 The world famous opera Carmen has been reworked and given a new ending in support of abused women.
The new production of Bizet's classic in Florence is aimed at highlighting modern-day mistreatment and violence.
Leo Muscato, the opera's director was initially reluctant to change the outcome but says it makes no sense in today's world.
"We see Carmen in the whole opera tormented by Don Jose's rather obsessive violence. He is not only jealous but also very possessive, We see that she is beaten up many times, once we even see her bleeding," said Muscato.
The setting's also different. This production sees Carmen as a gypsy living in a camp on the outskirts of Florence in the 1980s. She works in a factory to make ends meet and her Don Jose is a police officer.
Veronica Simeoni plays the lead character: "In this version of Carmen's craving for freedom and revenge pushes her towards self-defence. There is no premeditation but only self-defence in her gesture."
Needless to say this story doesn't require a spoiler alert, but the producers say "femmincido" or the murder of women is all too common in Italy and the subject is often swept under the carpet.