Stories you may have missed this week
Comments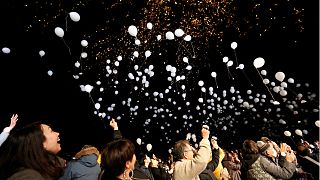 Copyright

REUTERS/Toru Hanai
This week, countries across the world welcomed a new year, anti-government protests broke out in one Asian country, and a tweet from US President Donald Trump sparked angry scenes in another.
Can you identify what happened in the video above?
Scroll down to find out the answers. You can click on the place names to read the relevant articles.
Emergency services respond to fire at a New York apartment building
Weah supporters party through the night after election victory
Peruvian protesters clash with police outside hospital treating Fujimori
South African grannies get fit and fight old age with a mean punch
Crowds gather for balloon release to welcome the New Year
Street protests continue in Iran, marked by tear gas and violent clashes
Rescuers pull bodies from Peru bus crash
Siberian divers stage underwater pre-New Year party
Officers recover Sydney seaplane after crash kills six
Protesters across Bolivia rally against government health policies
Trump tweet sparks angry protest in Pakistan
Forces crack down on protests against President Joseph Kabila
Moscow welcomes 2018 with fireworks over the Kremlin
Aukland among the first to welcome 2018 with fireworks display
Thousands gather at Copacabana beach for New Year celebrations