U.K. Car sales fall due to fears over Brexit
Comments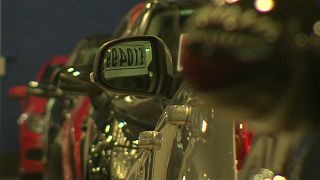 Sales of new cars in the U.K. have seen their biggest drop since the global recession.
Registrations fell 5.7 per cent to 2.5 million cars: The steepest fall since 2009.
It's thought buyers have less confidence due to uncertainty over Brexit along with concerns over emissions from diesel vehicles.
James Bevan, the Chief Investment Officer at CCLS Investment Management said: "First obviously there has been the challenge of Brexit and what that might mean. And secondly there has been the challenge of inflation rising faster than wages meaning that household incomes have been squeezed.
"On top of that there is the clear ambiguity about what lies ahead for diesel relative to petrol relative to electric, all of which encourages a deferral of investment intentions."
The demand for diesel vehicles fell by 17 per cent as many motorists sought to avoid more polluting fuels and new penalties for those who drive them.
The Society for Motor Manufacturers and Traders expects sales in 2018 to fall between 5 and 7 per cent.