Charlie Hebdo: 'They wanted us to be angels. We are not'
Comments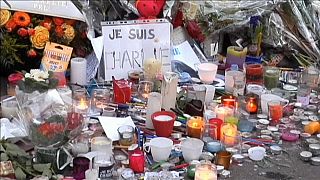 It is three years since terrorists murdered the staff of France's satirical weekly Charlie Hebdo.
Government ministers are due to attend a memorial ceremony on Sunday for the journalists who were killed.
The magazine says it is struggling with an annual security bill of €1.5 million.
January the 7th, 2015
Brothers Said and Cherif Kouachi burst in on an editorial meeting at the magazine's headquarters in Paris.
Twelve people died in the shooting, including five senior journalists and cartoonists.
Days later, two million people marched through Paris in an outpouring of national solidarity embodied worldwide in the motto "Je suis Charlie."
Further attacks
Four Jewish people and a female police officer were also killed that week in terrorist attacks by Amedy Coulibaly.
All three gunmen were killed in shootouts with police.
Since then, 241 people have been murdered in France in a wave of attacks that started in November 2015 with the massacres in Paris that took 130 lives.
How has Charlie Hebdo marked the anniversary?
The satirical weekly has published an edition bearing the headline "Three years in a jam-jar". It says sales have fallen away, death threats from Islamist sympathisers have flooded in on social media and it has been left to fend for itself.
Charlie's sales surged to more than seven million copies of the first edition after the massacre but have now fallen off.
They topped €60 million in 2015 but fell back to €19 million in 2016.
Death threats are continuing to come in on social media, Charlie says, forcing it to seek protection.
What they are saying
"Is it normal for a newspaper in a democratic country that one out of every two copies sold in the newsagent's has to finance the security of its offices?" - Charlie Hebdo editor Laurent Sourisseau.
Charlie journalist Fabrice Nicolino says staff are "in mourning that will never end", living and working in conditions "that do not bring honour to France."
Charlie journalist Guillaume Emer says France has turned away from Charlie after turning it into a symbol. "Amazingly, we are not very much supported by the country. The country wanted us to be angels. We are not angels at all."