President Trump finally made a briefing room appearance. Sort of.
Comments
By Ali Vitali with NBC News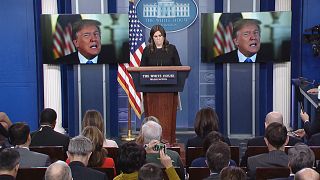 -
WASHINGTON — More than a few D.C. residents opted to work remotely Thursday, looking to dodge potential commuting headaches as one of the strongest winter storms in recent history hit the East Coast.
The president of the United States did the same — even though his commute would have been just a few dozen feet. And completely indoors.
Instead of making the walk from the Oval Office to the press briefing room to speak to reporters in person Thursday afternoon, President Donald Trump appeared via a taped video instead.
The message, which touted the purported impact of recently passed tax cuts and other elements of the Trump White House agenda, was projected on two flatscreen televisions flanking Press Secretary Sarah Huckabee Sanders at the lectern.
With the briefing broadcast on most cable news networks, using the video message to start off the session meant the president could celebrate his agenda at the daily press briefing without taking questions from the press.
"Thank you, Mister President," Sanders said to the screen when the taped message concluded. The display prompted a range of reactions from briefing watchers.
As president, Trump has not appeared in the briefing room to take questions from journalists, something his predecessors did from time to time.
Trump has been known to entertain questions from a small pool of reporters at photo opportunities and other events, but has avoided more traditional exchanges with the White House press corps — including bucking precedent by not holding an end-of-year news conference last month.