9 gadgets that make getting healthy easier
Comments
By Brianna Steinhilber with NBC News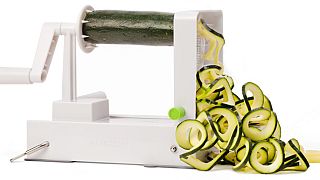 Copyright

The Inspiralizer
According to The Marist Poll, losing weight is the most popular resolution. (And if the crowded gym and veggie aisle are any indication, they're right.)
But implementing healthy habits (in hopes of dropping extra weight) takes much more than signing up for a gym membership and stocking the fridge with healthy foods. You know, like actually staying motivated to exercise each day and making the time to prepare healthy meals.
So it's no surprise that after a few weeks, many of us fall off the wagon pretty quickly. One survey found that after one week, 30 percent of us have already thrown in the towel, and by the end of January almost half of us have let those goals fall by the wayside. In fact, just 9 percent of people feel that they are successful in achieving their resolutions.
So why not set yourself up for success? If it's weight loss you're after, there are products that take some of the legwork out of implementing the healthy habits required to make it happen. Pick up a few of these gadgets to minimize the time and effort it takes to get your diet and fitness on track — and just maybe you will finally shed those extra pounds this year.
Think these plates are simply embellished with a floral design? Look a little closer. They are actually designed to make eyeballing correct portion sizes easy — and aesthetically pleasing on your dinner table. Each of the flowers corresponds to the proper portion size for the three main components of a healthy meal: vegetables, carbs and protein; ensuring your portion sizes are on point without the need to meticulously measure everything. You can even use these plates at a dinner party, and no one would ever know the difference!
Liquids are another sneaky source of calories that add up fast and can derail an otherwise healthy diet. If you're attempting to cut back (without giving up your vino completely), Weight Watchers is here to help. Their new Portion Control Wine Glasses include discreet etched lines that indicate 5 oz., 6 oz., and 8 oz. servings to make watching your pour easier. The design is discreet (so no one else will even realize you're watching your portions), but provide a nice reminder as to exactly how much you're imbibing. Now that deserves a toast!
Drinking more water helps to curb cravings, reduce appetite, and is especially important in staying hydrated if you're ramping up your exercise routine — but it can be difficult to reach that coveted eight-glasses-per-day goal. Employ a smart bottle to help. This one by Eightcups combines a visual notification with the tracking mechanism of other smart water bottles (without the need to have your phone nearby), by alerting you when you need to drink through the app and with an LED light on the actual bottle that blinks when your body needs water (based on analysis of your water intake pattern). The bottle will track your drinking patterns so that you can more easily see exactly how much and how often you're drinking, and work towards increasing your intake. It also charges wirelessly in three to four hours, so it'll be ready to go each morning!
Pounds aren't always the best measure of health, especially when you're on a weight-loss journey. That's why we love The Nokia Body Cardio Smart Scale that also tracks other important measures of health like BMI, body fat composition, muscle and bone mass, body water percentage and heart rate. It also downloads information to a free app — so you can easily see health and weight trends at a glance and make informed changes to your habits. Plus, it automatically distinguishes between eight user profiles so everyone in the family can get in on the tracking fun.
Spiralizing is an easy way to get creative with veggies and keep your healthy meals interesting (while warding off pasta cravings). Made by Ali Maffucci, the queen of sprializing and woman behind the popular blog Inspiralized, The Inspiralizer is an easy to use gadget featuring four settings — wide, fettucine, linguini and spaghetti — making it easy to create different noodle shapes without having to switch out blades. It's dishwasher safe for easy cleaning, and is also compact, taking up minimal counter space. The benefits of spiralizing are obvious: fewer carbs and calories, more veggies and a way to get creative with your recipes in the kitchen.
Making it to the gym isn't always possible, but by having this suspension trainer system you have a total body workout at your fingertips (literally) anytime, any place. So now what's your excuse for missing a workout? In addition to an upgrade suspension anchor, door anchor and a workout guide, it offers a one-year subscription to the TRX app, which features in-ear audio coaching, personalized biometric data reading and more than 80 workouts, including suspension training, HIIT, yoga and running. A study published in the journal Human Movement Science found that doing a suspended pushup using TRX bands activated the abdominals 184 percent more than doing a standard pushup. Hello, New Year's body.
For those who are battling a soda addiction or struggle to drink enough water, the Sodastream Aqua Fizz is a must-have. The newest in Sodastream's line of sparking water makers, it turns plain, boring water into a carbonated delight. (A study conducted by SodaStream found that owners drink 43 percent more water than non-owners, so you're bound to get closer to your daily dose.) It requires no electricity and features a streamlined design and two elegant, reusable glass carafes that are totally display-worthy — so you can keep them on your counter-top as a visual reminder to pour yourself a glass.
Price: $299.95
An impressive new fitness offering from the popular wearables company, the Fitbit Ionic Smart Watch offers a slew of activity-tracking goodies — including step-, heart rate-, sleep-, calorie-, and distance-tracking — as well as music playlist storage and sync, Fitbit Wallet for payments, Starbucks and Pandora apps, fitness coaching, GPS and email and text message notifications. The watch is also water resistant up to 50 meters, and its built-in sensors automatically start and pause activity tracking, so you can take all of the extra work out of exercise and get right to your workout.
Meal prepping lunches ahead of time increases the likelihood that you will stick to a healthy diet, decreasing the temptation of free food in the office kitchen or ordering takeout. Make meal prep easier and more appealing by investing in a container beyond your standard Tupperware. The glass container had an airtight seal so you can toss it in your bag without fear of spillage, reusable cutlery in the lid for convenient meals on the go, and three separate compartments that allow you to pack a different mix of foods to keep things interesting. Plus, it's microwave, oven and freezer safe, so you can meal prep ahead of time, freeze until you're ready to eat, and then pop it in the microwave at the office.
WANT TO EAT BETTER? TRY THESE SIMPLE SWAPS:
Want more tips like these? NBC News BETTER is obsessed with finding easier, healthier and smarter ways to live. Sign up for our newsletter and follow us on Facebook, Twitterand Instagram.