How the modern world was shaped a century ago
Comments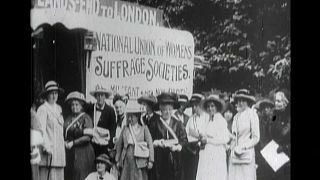 2018 marks the centenary of 1918, a defining year that helped shape the modern world.
It was the year Great Britain and Ireland began to grant women the right to vote, after Suffragette demands lasting many years.
Their campaign had already seen the death of Emily Davison, who died after throwing herself in front of King George V's horse during the English Derby in protest against the exclusion of her sex from any political status.
1918 was the last year of the First World War.
Russia - where a Bolshevik government had just taken power - withdrew from the conflict in March, when it signed a peace treaty with Germany and the Central Powers.
But fighting would continue across Europe and around the world until November, when the five-year conflict finally came to an end.
The conclusion of the war led to jubiliation around the world, including in the United States, whose entry had helped turn the tide in Europe in favour of the Allied powers.
But this was also the year of a devastating flu pandemic, perhaps the worst the world has ever seen, that killed an estimated 50 million people.
It apparently began in the United States but attracted attention when it started having a big impact in Europe, giving rise to the nickname "Spanish flu".
2018 is the centenary of the death of Gustav Klimt, the Austrian art nouveau painter who died on 6 February.
Klimt was one of the founders of Vienna's modernist secession art movement and his works, such as the perfect square painting "The Kiss", are worth millions of euros today.