The IQ of Europeans is dropping due to technology, say researchers
Comments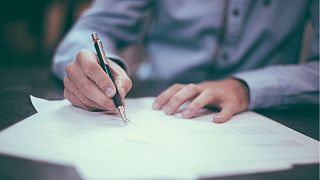 Intelligence levels are falling in advanced industrial countries across Europe, according to new research, which cites Scandinavia and the UK as key examples of places that have seen declines in recent decades.
The new study, "Does the rot start at the top?", argues that the IQ gains of the 20th century have faltered, with declines observed in developed countries since the mid-1990s.
Researcher Michael Shayer, who co-authored the report, told Euronews that since 1995 a "large social force has been interfering with children's development of thinking, getting larger each year."
This "social force" includes the development of technology, such as game consoles and smartphones, which have altered the way that children communicate with each other, he explained.
"Take 14-year-olds in Britain. What 25% could do back in 1994, now only 5% can do," he added, citing maths and science tests.
Like the UK, the study found that IQ levels in Scandinavian countries, which had been on the rise for decades, were now in decline.
Finland, Norway and Denmark have all experienced an average loss of 0.23 IQ points per year since the mid-1990s.
While these losses may seem small, the report's authors say they suggest a significant long-term effect.
"When projected over a generation (30 years), Finland would lose 7.49 points of overall IQ, Denmark 6.48 points, and Norway 6.50 points", the report notes.
While Sweden lacks data for recent years, the researchers believe it is following the same trend as its neighbours due to similar patterns of development.
"It seems that the factors that caused the IQ boost have lost the power," co-author James Flynn told Swedish magazine Forskning & Framsteg.
Shayer and Flynn believe the results point to a wider global trend, with other advanced industrial societies such as Germany and the Netherlands also showing signs of stagnation.