New York to deploy specialised police to prevent New Year terror attacks
Comments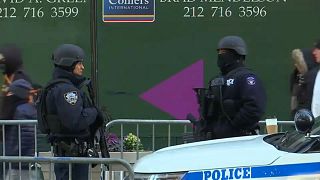 Police in New York are being given specialised training to prevent any suicide attacks before huge crowds arrive to watch 2017 draw to a close.
More armed officers will be deployed on the streets around Times Square, as well as snipers and explosive-detecting dogs.
The step-up in training comes after an attempted bombing in a walkway connecting to a subway station in Times Square earlier in December.
"I can report at this time there are no direct, credible threats to New York City, to Times Square specifically, or to any of our New Year's Eve events generally," said the city's police commissioner, James O'Neill.
But the New York Police Department is training officers to identify bombers and clear the crowds if they spot a threat.
They are authorised to use lethal force to stop an attacker and will help treat anyone who may be hurt.
"We understand why we are a target, unfortunately," New York City mayor Bill de Blasio said at a police briefing on Thursday.
"It's a sad reality but we understand it and bluntly it is because of our values as New Yorkers, because of our success as a pluralistic city."
Up to two million people are expected to fill Times Square this Sunday night to see in the New Year.
The most recent attack in New York occurred on December 11, when police said a Bangladeshi man set off a homemade pipe bomb strapped to his body in the walkway below Times Square. He wounded himself and two bystanders.