Former British PM Thatcher refused to take giant panda on flight to U.S.
Comments
By Max Burman with NBC News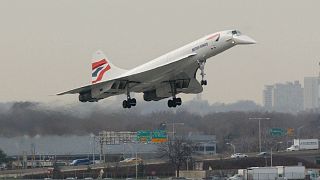 Copyright

LOUIS LANZANO AP Photo, file

-
LONDON — Former British Prime Minister Margaret Thatcher refused to share her Concorde with a giant panda while on her way to meet President Ronald Reagan in 1981, newly released documents revealed Friday.
Thatcher dismissed suggestions that taking a furry companion to D.C. could boost the so-called "special relationship" between America and the U.K. and insisted pandas were not "happy omens" for politicians, according to papers released by Britain's National Archives.
Washington's Smithsonian Institute had asked to loan London Zoo's male panda, Chia Chia, to mate with their female, Ling Ling, NBC News' British partner ITV News reported.
Spotting a chance for some publicity, London Zoological Society president Lord Zuckerman suggested that Thatcher would perhaps like to conduct the handover of the panda personally in order to generate some positive headlines.
"Lord Zuckerman sees this as a signal demonstration of the special relationship and would be very happy to time the announcement of the loan or the delivery of the panda in any way that the prime minister thought would be most likely to benefit Anglo-American relations," British Cabinet Secretary Sir Robert Armstrong wrote at the time. "He even suggested that the prime minister might like to take the panda in the back of her Concorde, when she goes to Washington next month."
Thatcher, who was known as the Iron Lady, was apparently not enthused by the idea.
In a handwritten response, the archives show Thatcher wrote: "I am not taking a panda with me. Pandas and politicians are not happy omens!"
The words "not" and "me" were underlined twice.
As it turned out, Thatcher didn't require a panda publicity stunt to give new life to Anglo-American relations.
Thatcher and Reagan — who shared free market economics, a similar approach to the Cold War and a personal rapport — would go on to forge ever closer bonds between the two countries.
"They enjoyed what might today be called an office marriage," said Nicholas Wapshott, who has written a biography of Thatcher. "And they would refer to each other as if husband and wife."
Related: 'Disruptor in chief' Trump leaves U.S. standing alone
For much of 2017, Anglo-American relations have been dominated by discussion of whether President Donald Trump will visit the U.K., and what kind of reception he would receive if he does.
He also criticized British Prime Minister Theresa May and London Mayor Sadiq Khan on Twitter.
So panda or no panda, it's fair to say the status of the special relationship heading into 2018 is considerably less black and white.