Alabama makes Jones win official as judge rejects Moore challenge
Comments
By Jane C. Timm with NBC News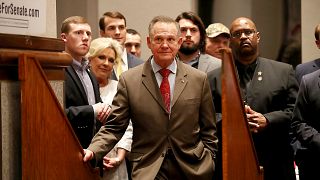 Copyright

Joe Raedle Getty Images file

-
Alabama officials certified the results of its special Senate election Thursday, officially naming Democrat Doug Jones the victor not long after a judge rejected a last-minute challenge from Republican Roy Moore.
Late Wednesday, hours before the Alabama State Canvassing Board was scheduled to meet Thursday to certify Jones' victory, Moore and his campaign filed a lawsuitalleging that voter fraud had tainted the election results and requesting that certification be delayed.
Moore, a far-right Republican dogged by accusations of sexual misconduct with teens in the race to fill the Senate seat of Attorney General Jeff Sessions, lost the Dec. 12 election to Jones by 1.63 percent after all votes were counted, according to the final count announced by the state canvassing board Thursday.
Moore has refused to concede the election, and said Thursday that he would still not do so despite the certification.
"Election fraud experts across the country have agreed that this is a fraudulent election," he said in a statement to NBC News. "I have no regrets."
Jones said in a statement he was "looking forward to going to work for the people of Alabama in the new year."
Moore's complaint called for a new special election or a deeper investigation into the so-called fraud. The complaint cites conspiracy theorist Richard Charnin as an election expert who said that the chances of the unofficial election results being accurate were "less than one in 15 billion."
It also includes Moore's own recounting of a polygraph test that he claimed proves he didn't know or have relations with three of his nine accusers.
Alabama's Secretary of State John Merrill told the Associated Press on Wednesday evening that Moore's complaint would not stop the election results from being certified.
"It's a very weak complaint, it does not rely on any election experts I've ever heard of and it makes claims that on their face do not appear to be plausible, or appear to be irrelevant," said Rick Hasen, an election law professor at the University of California, Irvine.
Prominent conservatives who allege voter fraud is more prevalent than evidence currently suggests declined to add their voice to Moore's complaint.
J. Christian Adams, a member of the president's voter integrity commission and an election lawyer, called the complaint "crazy" in a tweet, writing that it was a "humiliating day" for people who care about voter fraud and election integrity.
Loyola Law School Professor Justin Levitt, a former Department of Justice official who worked on voting rights, noted that voter fraud is not widespread, occurring only in isolated and rare instances.
"Mr. Moore does not appear to have anything other than wishful thinking," he told NBC News.