Zach Wahls, who defended lesbian moms in viral video, running for office
Comments
By Ariel Jao with NBC News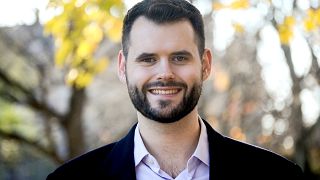 Copyright

Courtesy Zach Wahls Campaign

-
In 2011, Zach Wahls, then a 19-year-old University of Iowa student, addressed the Iowa House of Representatives during a public debate on same-sex marriage. His passionate 3-minute speech —where he proudly admitted he was "raised by two women" and spoke about the strength of his family — went viral and thrust him into the national spotlight as an advocate for LGBTQ rights.
Wahls, now 26, announced he is running as a Democratic candidate for Iowa's 37th State Senate District in 2018. In a statement announcing his candidacy, the Iowa native said he's throwing his hat in the political ring "for one simple reason."
"This is an all-hands-on-deck moment that will determine the future of our state for generations to come, and I feel responsible for doing my part," Wahls said in the statement published Thursday. "Our state has a choice to make. Are we going to let Republicans continue their attacks on healthcare, education, and workers' rights or are we going to stand and fight for the values that have defined this state for hundreds of years?"
Quoting the late Senator Paul Wellstone, Wahls added, "We all do better when we all do better. And that's why I am running for the Iowa Senate."
The seat Wahls is running for is currently held by Democrat Bob Dvorsky, who announced he will not seek reelection. Janice Weiner, a retired diplomat and fellow Democrat, has also announced she's running to replace Dvorsky.
Following his viral 2011 speech, which currently has more than 3 million views on YouTube, Wahls remained an active advocate for LGBTQ rights. In addition to his public speaking and lobbying on behalf of LGBTQ equality, he has published a book about his family, titled "My Two Moms," and has been involved with a number of organizations dedicated to gay rights, including Scouts for Equality and the Family Equality Council. One of his current projects,The Rainbow Letters, is an online collection of letters written by the children of same-sex parents.
Daniel Hoffman-Zinnel, the executive director of One Iowa, a statewide LGBTQ advocacy group, applauded Wahl's decision to pursue elected office.
"We have worked alongside Zach several times in the past, and because of that we are pleased to see him joining the race and bringing attention to LGBTQ issues," Hoffman-Zinnel told NBC News.
Wahls is currently a full-time student at Princeton University's Woodrow Wilson School of Public and International Affairs, where he is pursuing a master's degree in public policy. He told the Iowa City Press-Citizen that Princeton will let him finish his last three classes from Iowa, so he can campaign.
"The primary election is the same day as commencement," he told the paper, "so I've been telling people that I won't be able to walk, but I'll be able to run."