10 quotes that define the year in tech
Comments
By Alyssa Newcomb with NBC News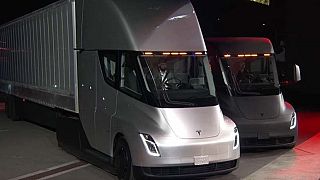 As the year comes to a close, 2017 will be remembered as the time when Silicon Valley was forced to engage in some major self-reflection.
Facebook, Google, and Twitter found themselves at the center of a storm over election meddling - and the black cloud hasn't gone away just yet. It's also the year Silicon Valley was forced to reckon with its "bro culture" and workplace harassment.
But it wasn't all about introspection. As usual, the world got plenty of crazy ideas and zingers from Elon Musk and we were introduced to a phone that can be unlocked using facial recognition.
Here's a look at the moments that helped encapsulate the year in tech.
"You put billions of data points together all the time... You can't put together rubles with a political ad?" — Senator Al Franken
The general counsels for Facebook, Google, and Twitter spent two days testifying before members of Congress about what the companies knew about Russian use of social media to meddle in the 2016 election.
Franken, like many members of Congress, was visibly frustrated by the perceived lack of answers from the companies when he asked Facebook's general counsel Colin Stretch about why the company wasn't able to immediately connect the dots on election-related ads coming from Russia.
"My Twitter account was taken down for 11 minutes by a rogue employee. I guess the word must finally be getting out - and having an impact." — President Donald Trump
President Trump was knocked off Twitter for 11 minutes in November after a Twitter contractor, on their last day of work, decided to suspend the president's account. Many on Twitter hailed the anonymous worker as a hero. However, Bahtiyar Duysak, a man claiming he could be behind the shutdown, told technology news site TechCrunchthe shutdown was simply an accident.
"Over the next few months, I began to meet more women engineers in the company. As I got to know them, and heard their stories, I was surprised that some of them had stories similar to my own." — former Uber engineer Susan Fowler
In a February blog post titled, "Reflecting on one very, very strange year at Uber," former Uber engineer Susan Fowler shared her experience of workplace discrimination, routine harassment, and how her complaints were ignored by the company. Fowler's blog post prompted Uber's former CEO Travis Kalanick to order two independent investigations into the company's culture and harassment allegations. The result led to an outline of changes at the ridesharing company, a number of firings - and ultimately led to the board pressuring Kalanick to resign.
"I have to tell you I am scared." — Dara Khosrowshahi after he was named CEO of Uber
The Uber board spent months searching for someone to fill one of the most high profile but perhaps least coveted jobs in Silicon Valley. In August, Expedia CEO Dara Khosrowshahi was offered the job. In a letter to employees at the travel company, he told them he was "scared" about his next step.
"I've been here at Expedia for so long that I've forgotten what life is like outside this place. But the times of greatest learning for me have been when I've been through big changes, or taken on new roles — you have to move out of your comfort zone and develop muscles that you didn't know you had," he wrote. Since taking over, Khosrowshahi has had his hands full, including dealing with Uber's license not being renewed in London and firing the company's chief security officer for paying hackers to cover up a hack affecting 57 million people.
"These things keep happening and the details change but the substantive portion of it is that women shouldn't be engineers and we aren't welcome." — former Google engineer Cate Huston
Google fired engineer James Damore for posting a 10-page document on internal message boards. Dubbed the "Google Manifesto," Damore claims to explain why more women aren't in engineering positions, chalking up the disparity to "biological" differences, including generalizations that women don't tend to handle stress well and are more neurotic. Cate Huston, a former Google engineer, told NBC News she's had to fight gender stereotypes in Silicon Valley. Google CEO Sundar Pichai told employees that portions of the so-called manifesto violated Google's code of conduct and crossed the line by advancing gender stereotypes in the workplace.
"This will blow your mind clear out of your skull and into an alternate dimension. Just need to find my portal gun." — Elon Musk
Leave it to Elon Musk to generate some excitement. The Tesla and SpaceX CEO, who is also busy with his new tunneling venture, The Boring Company, promised his new Tesla electric semi unveiling wouldn't disappoint. He was right — in classic Musk fashion, he also snuck in another surprise at the event, showing off a new Tesla Roadster.
"While reaching this moment has certainly been a long road traveled, it marks the end of an era for Yahoo, as well as the beginning of a new chapter — it's an emotional time for all of us." — outgoing Yahoo CEO Marissa Mayer
After Verizon completed its deal for Yahooin June, CEO Marissa Mayer — one of the most prominent women in Silicon Valley — announced she would be stepping down from her role. Verizon now owns the bones of Yahoo — its core internet businesses such as Yahoo Mail, Yahoo Sports, Yahoo Finance, Yahoo News, and advertising. Yahoo is now part of a parent company called Oath.
"I think people who are naysayers and try to drum up these doomsday scenarios... I just, I don't understand it. It's really negative and in some ways I actually think it is pretty irresponsible." — Facebook CEO Mark Zuckerberg
Zuckerberg spent one Sunday afternoon barbecuing and answering questions on Facebook Live. When one user asked about Musk's cautious approach to artificial intelligence and what Zuckerberg thought about it, he gave an enthusiastic answer and said he believes AI will "deliver so many improvements in the quality of our lives" in the next five to 10 years.
"I've talked to Mark about this. His understanding of the subject is limited." — Elon Musk
Musk responded on Twitter with a burn for Zuckerberg.
"Will drop everything else we are doing and address on Monday...if folks can agree on the correct way to do this!" — Google CEO Sundar Pichai
Twitter users became concerned over the placement of cheese on the burger in Android's set of emoji, which had the cheese on the bottom bun and the burger, lettuce, and tomato above it. Pichai said he'd look into it and it appears he made good on his promise, with Android 8.1 now placing the cheese under the lettuce and tomato and above the meat.