2018 will feature some seriously sci-fi tech trends
Comments
By Alyssa Newcomb with NBC News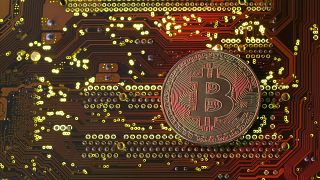 Copyright

Dado Ruvic Reuters file

-
Ready or not, we're getting ready to take the leap into 2018.
While we don't have a crystal ball, it's clear that the new year will be filled with plenty of technological promise.
From virtual reality for the masses to bitcoin and smart everything, here's a look at technology and trends you'll want to keep your eye on in 2018.
Your devices will know you on a much more personal level
Who needs a remote control, anyway? Voice assistants surged in popularity over the course of 2017 — and next year, expect more tech to interact on your terms, whether it's through voice or gestures. While it's likely several years away, Ericsson's "10 Hot Consumer Trends for 2018" report envisions a future so in tune with human emotion that your smart coffee machine can notice your reaction after taking a sip and then offer just the right amount of sugar and milk to improve your brew.
Look for Apple's long-awaited HomePod speaker, with built-in Siri capabilities to make a splash on the voice scene. But according to Ericsson's predictions, we can expect tech companies to continue to push forward with the idea of using the human body as an interface. After all, you can already open the iPhone X or log in to the newer version of Windows with a glance. That's likely only just the beginning of what's to come.
Cryptocurrency goes mainstream
Bitcoin is surging and even turning middle class Americans into crypto millionaires. While no one quite knows the reason why, we should expect a surge of investment in cryptocurrency and blockchain, according to Josh Wolfe, co-founder and managing partner at Lux Capital.
"I think there is going to be a rightly deserved continued rush of talent and money into all things crypto and blockchain," he told NBC News. "And with that will come a predictable but undeserved flood of frauds and scams."
Related: What will it take to get virtual reality right?
Blockchain is the technology that was originally built to handle bitcoin transactions but also has many other uses. Blockchain cuts out the middle man, allowing two people to securely make transactions. The public ledger records transactions and then encrypts them in a block that is saved and linked to a preceding block. While the technology is fundamental in the realm of cryptocurrency, its supporters believe it also has future-use cases doing everything from enforcing contracts to identity management.
Virtual and augmented reality
Virtual reality, the technology that takes us to an entire other "world," is still in its infancy, but Facebook's Oculus is making a major play to bring it mainstream. Oculus Go, a $199 self-contained headset with no cables or smartphone required, is set to be released sometime early next year.
Wolfe said he's skeptical about VR headsets going mainstream, but said he believes augmented reality, which is when virtual objects are placed in the real world,will continue to be even more important.
Apple and Google are continuing to work with developers to bring new experiences to smartphones. We can already place virtual furniture in our living rooms with the Ikea app to see how it looks before we make a purchase or get live tech support through the Chalk app, where a helper can draw on your screen, showing you the buttons you need to press.
"I think that augmented reality will prove to be more pervasive and important and it will go from three-dimensionally generated objects inserted into things, which is what we see now, and instead it will be valuable information layers on what you are looking at," said Wolfe. "Those kinds of information layers will be picking up all kinds of sources. Everything from road maps to retail prices and temperature and pollution levels. It will bring more day-to-day utility in that it literally augments our day to day."
A battle to be invited into your home
It's no longer enough to offer same-day delivery. Companies will now be battling for the opportunity to enter your home, literally placing your package inside and even putting away your groceries.
Amazon Key uses a smart lock and camera to record the entire interaction when a delivery person drops off your parcel inside your home. If Amazon has its way, the Amazon Key platform could eventually be integrated with thousands of providers — from dog walkers to house cleaners — letting you schedule appointments without worrying about giving someone a physical key.
In September, Walmart also began testing the delivery of packages and groceries — even putting them away in your refrigerator — for customers with smart home products in the Silicon Valley area.
"Consumers will benefit, as will [these companies]," said Wolfe. "They have begun fighting to have your attention, your trust — and your access."