US government shutdown averted with hasty spending bill
Comments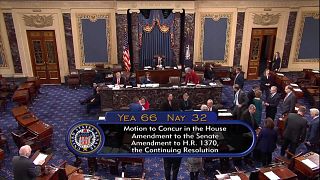 The US Congress has passed a last-minute spending bill to avert a government shutdown that would have been embarrassing just days after it approved sweeping tax cuts.
A bill to keep federal agencies funded through January 19 was passed on Thursday (Dec. 21) in both the House of Representatives (231-188) and the Senate (66-32). The vote came just before a Friday night deadline, when the funding was set to expire.
The bill provides short term funding for a health insurance program covering millions of children. But other major issues are being kicked into the new year.
No deal was reached on protections for young immigrants who entered the US illegally as children, also known as "Dreamers".
That comes just as the Washington Post reports that the Trump administration is weighing a policy that would separate families caught crossing the border with Mexico illegally.
Other promised bills to extend a surveillance program, boost the military and stabilise health insurance markets will have to be tackled after the Christmas holidays.
Lawmakers have been grappling for months with issues such as the amount of defense-spending increases versus increases for other domestic programs, including medical research, opioid treatment and "anti-terrorism" activities.