Here are the top political stories to watch in 2018
Comments
By Chuck Todd and Mark Murray and Carrie Dann with NBC News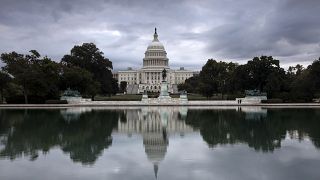 Copyright

J. Scott Applewhite AP

-
First Read is your briefing from Meet the Press and the NBC Political Unit on the day's most important political stories and why they matter.
WASHINGTON — 2017 was, um, an interesting year in American politics. And here are the storylines we'll be watching early next year:
The spending bill battle: On Thursday, Congress passed a temporary spending bill to keep the government open through Jan. 19. And so it's likely that we'll finally see that showdown over President Trump's border wall, the fate of the DACA program and long-term funding for CHIP, the children's health-care program. Remember, Republicans will need 60 votes to pass this in the Senate, so Democrats have leverage in this spending fighT.

Keeping an eye on the generic ballot: Democrats ended 2017 with double-digit leads on the generic ballots in several polls, including the NBC/WSJ survey - all pointing to a building wave for the 2018 midterms. Can Democrats sustain that advantage? Or can Republicans begin to close the gap?

The 2018 primaries begin: In March, Texas (March 6) and Illinois (March 20) hold their primaries - the first of the midterms. However, those contests will come after the GOP and Democratic primaries in AZ-8 on Feb. 27 to replace Rep. Trent Franks, R-Ariz., who resigned from Congress after allegations of sexual harassment.

Another special election: March 13 brings us the special congressional election in Pennsylvania to replace former Rep. Tim Murphy, R-Pa., who also stepped down from Congress this past year. This district is in Trump Country - the president won it 58 percent to 38 percent in 2016 - but as Alabama proved, anything is now possible.

The sexual harassment story isn't going away: In the month of December alone, five members of Congress (John Conyers, Al Franken, Franks, Blake Farenthold and Ruben Kihuen) either resigned or announced they won't be running for re-election. And we have a strong feeling they won't be the last ones.

The Russia investigation isn't going away, either: In the last two months, four members of Trump's team - Paul Manafort, Michael Flynn, Rick Gates and George Papadopoulos - either were indicted or pleaded guilty. Who's next? By the way, NBC's Mike Memoli reports that the House Intelligence Committee "will question longtime Donald Trump associate Rhona Graff on Friday, the latest in a string of key interviews as the panel looks to conclude its probe of Russian meddling in the 2016 election."

Watching the economy: And last but not least, will the economy - 4.1 percent unemployment rate, 228,000 jobs created last month, 3.2 percent GDP last quarter - keep humming? Remember, the Trump/GOP tax plan depends on it.
And here's a quick political calendar for the beginning of 2018:
Jan 19: Last day of funding for the federal government
Jan. 30: Trump's State of the Union
Feb. 27: AZ-8 primary
March 6: Texas primary
March 13: Special election in PA-18
March 20: Illinois primary
Trump said Obamacare has been essentially repealed. But nearly 9 million signed up for coverage for 2018
NBC's Benjy Sarlin: "About 8.8 million people signed up for insurance on the federal health care exchange during Obamacare's latest open enrollment period, a senior health official announced on Thursday. The number — which topped expectations — was down only modestly from last year's 9.2 million sign-ups despite an enrollment period that was half as long, a 90 percent cut by the Trump administration in advertising for the program, and a tumultuous year in which Congress repeatedly tried to replace the law and the president cut off cost-sharing reduction payments (CSRs) to insurers."
"Tempers flare" in Trump White House meeting about the 2018 midterms
"Within hours of celebrating President Trump's biggest legislative achievement, at the South Portico of the White House on Wednesday, his aides and outside advisers had a spirited, and at times tense, discussion with him about the political outlook ahead of next year's midterm elections," the Washington Post says. "The gathering saw tempers flare as aides vented their frustrations with electoral defeats this year and concerns about the 2018 political map, according to several people with knowledge of the discussion. Complaints about the president's political operation and the Republican National Committee boiled over, playing out in front of the president as an inner-circle drama."
In the tax battle, Republicans outspent Democrats by a 4-1 margin in TV and radio ads
According to ad-spending data from Advertising Analytics, GOP groups pushing to pass the tax bill spent more than $25 million over the airwaves, compared with $6.4 million that Democratic groups spent to oppose that.
That 4-to-1 margin is striking given the unpopularity of the GOP's tax effort. The biggest GOP spender was the American Action Network, which dropped nearly $12 million in ads, while the biggest Dem spender was Not One Penny at $3.4 million.
Merry Christmas, Happy Holidays and Happy New Year
This is our final First Read of 2017. We'll be back on Jan. 2!