Federal board that mediates harassment claims remains in limbo
Comments
By Leigh Ann Caldwell with NBC News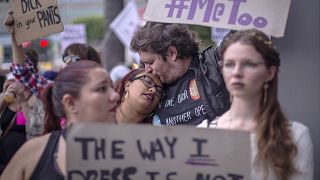 Copyright

David McNew Getty Images

-
WASHINGTON — A three-member board meant to settle disputes between federal workers and their direct employers remains unable to function because two of its politically appointed slots remain unfilled, creating a backlog of unsettled claims that could take years to address.
While the board is not a direct line for sexual harassment complaints, it does serve as a safeguard against retaliation for about two million federal workers. And it's another piece of a complicated maze of government systems that handle sexual harassment claims, an issue that has rocked American institutions over the past several months, from the entertainment industry to the media and the halls of Congress.
The Merit Systems Protection Board (MSPB) is a three-member board available to help settle workplace disputes for the nearly all of the country's federal employees. But it has been unable to fully function because President Donald Trump hasn't nominated anyone for two empty seats, leaving 704 cases waiting to be heard, according to William Spencer, spokesman for the board.
The board is the final point of appeal for federal employees who claim to have been wrongly terminated, suspended, demoted or furloughed for 15 days or longer for a variety of reasons.
George Chuzzi, an attorney with Kalijarvi, Chuzi, Newman & Fitch, who represents federal employees, says the cases continue to pile up.
"Even if we were to nominate and confirm next week it's going to take a couple years to get through the backlog," Chuzzi said.
While the Equal Employment Opportunity Commission hears initial discrimination complaints, the MSPB hears claims of retaliation that impact pay, responsibilities and employment, from those who filed harassment claims.
The last time the board lacked a quorum to operate was in 2003 but it lasted "only a few weeks," according to an MSPB fact sheet.
A White House official said last week that the administration "fully intend(s) to nominate enough members early next year so that the Merit Systems Protection Board has a quorum."
Rep. Carolyn Maloney, D-N.Y., wrote a letter to Trump on Wednesday urging him to nominate new board members immediately.
"At a time when employees from every employment sector are coming forward with allegations of egregious workplace misconduct, it is essential that the federal government ensures that the civil service protections we have established are thoroughly and fully enforced," Maloney wrote. "Filling the two vacancies at the Merit Services Protection Board is an important step in achieving the status the federal government can and should have as a model employer."
Three years after the board's creation in 1978, it has done an annual study of sexual harassment in the federal workplace. The board hasn't been able to conduct this year's survey because of its lack of board members, but the 2016 results found that 18 percent of federal employees have reported at least one instance of sexual harassment in the workplace. That is far fewer than the 44 percent of women who experienced sexual harassment in 1994.