One passport is red, the other is blue. And they have Britons up in arms.
Comments
By Alastair Jamieson with NBC News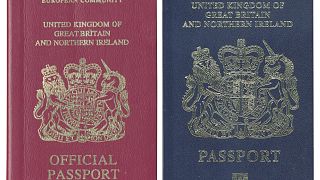 -
Copyright

HANDOUT AFP - Getty Images
LONDON — Britain is mired in a bitter argument over an unlikely step on the path toward Brexit: the color of its passports.
Prime Minister Theresa May announced Friday that the U.K. will revert to its traditional dark blue design for travel documents after it leaves the European Union in March 2019, ditching the decades-old burgundy red used by most E.U. nations.
The return of the ink-colored passport "is an expression of our independence and sovereignty, symbolizing our citizenship of a proud, great nation," she said.
The move appeared aimed at gratifying the 52 percent of British voters who chose to leave the E.U. in last year's referendum. For many, the burgundy red color, adopted in 1988 from E.U. design guidelines, represented a loss of identity for Britain during its membership in the trading bloc.
But the defeated 48 percent who voted to remain in the E.U., many of whom are too young to have held a pre-1988 passport, have ridiculed the change as an unnecessary act of symbolism — especially since Brexit could spell the end of visa-free travel to much of the continent.
Related: $1m in rasperries left to rot as labor shortage bites
"No one under 45 will have owned a blue passport and most will think they're not worth … crashing the economy," opposition Labour Party lawmaker Mary Creagh tweeted Friday.
Lawyer Tom Cleaver wrote: "It's difficult to imagine a clearer illustration of the fact that the young are being marched into a future they don't want. I'm not even that young anymore, and until this year I had absolutely no idea that passports used to be blue."
The shock Brexit result of June 2016 was driven overwhelmingly by older voters, opinion polls show. Those over 65 were twice as likely to choose "leave" than those under 25, according to one survey of 12,300 voters, and the majority of those under 44 chose to "remain." Data collated by The Financial Times from the British Election Survey also found that "leave" supporters were less likely to travel overseas.
Far-right pro-Brexit campaigner and ally of President Donald Trump, Nigel Farage, was delighted with the passport decision.
"It isn't just the color," he told ITV News, but the removal of the words "European Union."
"For 30 years I've loathed the fact that, in name of trading freely with neighbors, we effectively got rid of our national identity. What's happening here is that we are getting it back," said Farage, 53. "I'm going to be the first in to get a British passport that doesn't say European Union on it. Identity, being part of a country, symbolism — these things really matter."
Related: Border battle threatens to derail Brexit talks
Still, some point out that Britain could still have chosen a blue design even while in the E.U. since the color guidelines were not mandatory. Bloc-member Croatia, for example, has dark blue passports. And all new passports must also comply with size and layout standards set by the International Civil Aviation Organization (ICAO), which means the design won't be exactly the same as pre-1988 examples.
Existing passports will remain valid until they expire, and the phased-in new design won't cost extra because the $670 million, five-year contract to manufacture the documents is coincidentally due for renewal in 2019. That raises the embarrassing possibility of the winner of the contract being from an E.U. country such as Germany or France.
In the United States, passports have changed color with less controversy; green was switched to blue in 1976 as part of bicentennial celebrations and red has been used in the past.
U.K.-E.U. divorce talks took a step forward this month when May secured a deal to begin negotiating future trading, customs and border arrangements after Britain withdraws from the bloc.
However, there are still unanswered questions and political uncertainty, especially over border controls, and Britain's currency, the pound sterling, has been weakened by economic fears. On Thursday, the International Monetary Fund predicted Britain's economy would grow more slowly than many advanced economies — even if Brexit talks are successful.