'We have to think as a family' - EU migration commissioner reflects on divisions
Comments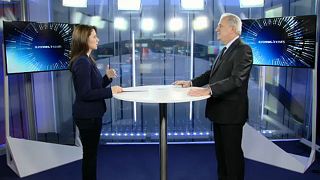 It's not only Brexit the EU's been grappling with this year, but also divisions over migration policy.
A migrant sharing plan brought in by the bloc to help inundated Greece and Italy has run into problems. The four Visegrad nations – the Czech Republic, Hungary, Poland and Slovakia – voted against quotas.
But they have been legally bound to accept refugees because they lost out to the majority. Still, Hungary and Poland haven't taken anyone under the scheme.
There are also concerns about Austria, with a new Chancellor, and a new coalition bringing the anti-immigration, far-right to power.
So where does this leave EU migration polices, and values?
Euronews spoke to EU Migration Commissioner Dimitris Avramopoulos.
Efi Koutsokosta, Euronews: "Austria has now a new government, with a far right party on board. Are you concerned on this?"
Dimitris Avramopoulos, EU Commissioner for Migration: "Let me start by telling you that Austria is a great nation. A very democratic nation. And a pro European nation. I don't think that this coalition will disorient the European orientation of Austria. It is true to say that when we have this kind of alliances, there is a sort of tug of war. Who will prevail upon the other. But the basic values upon which the Austrian democracy is built are very resilient."
Euronews: "It seems that the new chancellor, Mr Kurz is closer to what Mr Tusk said about mandatory quotas and this policy on migration, which is your portfolio. What does that mean to you, given that Austria will take over the EU presidency in the second semester in 2018."
Dimitris Avramopoulos: "Nobody has ever spoken about quotas in Europe. This word does not exist in our vocabulary. It was written in the newspapers. What was decided three years ago, 3,5 years ago in Luxembourg and the decision was made by all member states present in this council, was to move forward jointly, united, and that is where we adopted this relocation scheme. In a very short period we noticed the unwillingness of three member states who were proposing other alternative contributions. But it was not accepted. Because I want to be very clear: solidarity can never be a-la-carte. "
Euronews: "But now member states have 6 months ahead to decide what to do with the Dublin regulation, and what to do with this mandatory quotas. How do you see that a compromise can be reached when we see really this divisions between the East and the West?"
Dimitris Avramopoulos: "The new Dublin must be more fair. And better balanced. So the burden will not be on the shoulders of the front line member states like Spain, Italy, Greece or even Bulgaria today. So they all say burden sharing. I would say responsibility sharing."
Euronews: "Will sanctions be included in this new Dublin for countries that really don't want to comply?"
Dimitris Avramopoulos: "From the moment the final decision is done by an agreement of all member states, then it will be mandatory as far as its implementation is concerned."
Euronews: "We will come back to the sanctions, because there were some proposals saying that with the money, you know if you don't comply with the decision of quotas whatever, you have to pay something like 250 thousand euros. What do you think about it?
Dimitris Avramopoulos: "It was an idea. It's obsolete, it's finished. It was launched as an idea two years ago. But, we have to be serious. It's not a question of putting fines, it's a question of agreeing Europe exists because of an historical agreement that was made 60 years ago. Europe will continue existing as long as there is agreement. And, in this process, we must put aside either our political parties' positions or even, in some cases, our countries' interests. We have to work, think as a family, in a European way."