What's it like to go on a tour of North Korea?
Comments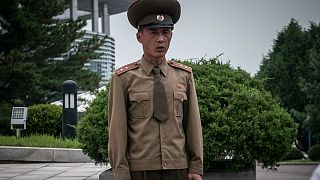 Huniewicz's latest photos, titled "You will now go to sleep", are the third instalment of a four-part series and resulted in the Polish-born photographer receiving hate mail and death threats.
Huniewicz told Euronews the details of his North Korean tour and how he has coped with the repercussions of publishing the images he took along the way.
Getting into the country
Huniewicz said he travelled into North Korea by train from China.
One American in his group was unable to get the train and flew into the country, telling the other members of his group that "everything was old" onboard an Air Koryo plane (North Korea's state-owned airline) and that he didn't think "they complied with any health and safety standards".
Checks upon arrival
The photographer said passport checks inside the North Korean border took three hours and he saw guards check the group's laptops, deleting files of the film "The Interview," an American comedy about the country, and a documentary about Yugoslavia.
Huniewicz said the guards threatened that anyone found with pornography would have their device confiscated and the images would be shown around to the group to embarrass them.
Next, both mobile phones and cameras were checked and any cameras with a lens over 200mm were not let into the country.
Where you're allowed to go
Huniewicz spent almost all of his trip in Pyongyang, residing in a hotel designated for foreign guests.
"If you're not from China, or a communist sympathiser and travelling with a group that is recognised as such, you'll be staying in that hotel," he said.
Guests were strictly prohibited from visiting the "secret" fifth floor, for which the lift didn't have a button.
This is the restricted area of the same hotel where deceased American student Otto Warmbier was accused of stealing a propaganda poster.
Aside from Pyongyang, Huniewicz's group also visited the DMZ, a demilitarised zone created after the Korean War, and the Mangyongdae Native House, the house where Kim Il-sung—the first of the Kim Dynasty leaders—was born.
When travelling between Pyongyang and these destinations, the photographer noticed citizens walking or cycling from place to place while vehicles were a rarity.
"We asked if anyone had a car and they said 'you don't need a car in your life because you can go everywhere by bus,' but it means you can't go anywhere spontaneously. Apparently, they need a permit to travel," he said.
Restrictions on tour
Huniewicz said there were two to three guides with his group at all times—one guide always led at the front and another followed behind.
He said they kept a close eye on the American tourist and he felt like they were watching the group, "waiting for them to make a mistake".
"There's nothing you can do without them, as soon as you leave the hotel you have to be with them," he said.
This constant surveillance inspired the title of Huniewicz's of photographs "You will now go to sleep". At one point guards told the group to go to sleep to stop them seeing out of the windows of a minivan as they travelled between two destinations.
However, it shocked Huniewicz how much he got used to being controlled by the guards. In a matter of four days, the oppressive treatment had become "second nature".
Can you take photographs?
Huniewicz said the subject of the group's photographs was strictly controlled. In one case he took a photograph of a soldier's back and this was against the rules, whereas a photograph of him standing faced forward was allowed.
Guards said at the start of the tour that if any members of the group were found with illicit photos when leaving the country, they would be detained and kept in the country.
To hide his "illegal" photographs Huniewicz took several steps including filling "hundreds" of memory cards, which he hid in different pockets of his bag, with photos of landscapes to bury them.
He also changed his camera menu into Polish so guards couldn't understand it and changed his lens to a smaller one to make it look less threatening.
The technical experts that checked his equipment didn't pose a risk as they were "decades behind" in their knowledge.
Would Huniewicz go back?
"People have been killed because of your pictures. The families (of the tour guides) have been killed too and it's all your fault," read one of the messages he received after publication of the first photos.
Huniewicz said the threats on his life were less worrying than the hate mail as they were generic, whereas some messages contained details about his father that surprised him.
The photographer said he felt guilty for the money he paid into the regime, which he thinks is "one of the most unfair cruel regimes on earth".
"I don't want to go back to North Korea, it was an awful experience," he said.
"And I don't think it would be safe for me."