Dustin Hoffman sex accusers describe ordeal
Comments
By Cynthia McFadden and Elizabeth Chuck with NBC News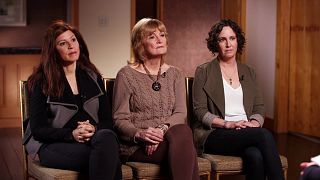 -
Three women who accuse Dustin Hoffman of inappropriate sexual behavior recounted being starstruck when they met the celebrated actor — and then stunned by Hoffman's advances toward them.
Two were underage when the alleged sexual misconduct happened. The third says she was subject to night after night of inappropriate touching during months on Broadway with him.
"It eroded my self-confidence and my dignity," Kathryn Rossetter, who co-starred with Hoffman in the Broadway production of "Death of a Salesman" and the subsequent TV movie version, told NBC News on Monday. "It was humiliating and demeaning. ... He robbed me of the joy of that experience."
Rossetter is one of several women who recently came forward with decades-old allegations against Hoffman.
A lawyer for Hoffman did not respond to requests for comment and his publicist declined comment for this article. Hoffman, now 80, said in a statement last month that he's sorry for "anything that I might have done" and said, "It is not reflective of who I am."
On Monday, Rossetter and two other accusers sat down with NBC Nightly News in an exclusive interview. Rossetter claims Hoffman assaulted her by putting his hand on her thigh every night before they would go on-stage and grope her breasts when they posed for photos. "He would get more and more aggressive and try and go higher and higher and higher until one day he actually tried to penetrate me with his finger," she said.
Rossetter described a feeling of relief in finally telling her story.
"I've been lying for 34 years," she said. "People go, 'How is it to work with Dustin?' And I tell the half-truth, which is, as an actor working with him, I owe him everything. I learned so much. And then I would stop and there would always be a knot in my stomach about what the real truth was, which is he was abusive and he was a bully."
Related: John Oliver engages in heated exchange with Dustin Hoffman over sexual misconduct claims
Rossetter described working with Hoffman as the chance of a lifetime: As an actress who hadn't yet had her breakthrough, Hoffman's casting her in 1983 for a role in "Death of a Salesman" was "the most incredible day," she said.
Another accuser, Cori Thomas, says Hoffman exposed himself to her in a hotel in New York when she was just 16 years old. It was 1980 and Thomas, who said she was friends with Hoffman's daughter, was invited by the actor to be alone in his hotel while she was waiting for her parents after spending the day with him and his daughter.
"When I met him, it was a really weird thing, because not only is this an idol, but it's also my friend's dad, and I think that ended up superseding the idol part, because he was just very dad-like with her and with me," Thomas said on Monday. "We had spent an entire day and it was probably one of the greatest days of my life."
But things quickly took a turn when Hoffman allegedly took a shower and dropped his towel, she said. She said he got on the bed and asked her to give him a foot massage.
"I was 16 so I did and he was being suggestive saying, 'You know I'm naked.'"
"I wanted to stop, but I couldn't. I was a polite girl," she said.
Hoffman's attorney has called Thomas' accusations against the actor "defamatory falsehoods."
Related: Here are the men accused of misconduct since Weinstein
Anna Graham Hunter, who interned as a 17-year-old on the set of the 1985 TV movie "Death of a Salesman," said that Hoffman had also asked her for a foot massage. It happened on the first day on set when Hoffman invited her into his dressing room to eat lunch, she said.
"I didn't have this language then, but in my gut, I knew that my status had instantly been lowered, like I was going to be the person sitting at his feet giving him a foot rub," said Graham Hunter, now an actress. "I wasn't just the person invited to his little party for my sparkling personality."
One morning, he gave her a sexually vulgar and offensive breakfast order, she said.
"He just stared at me and everyone burst out laughing," she said.
The inappropriate behavior continued during the duration of the time both Rossetter and Graham Hunter worked with Hoffman, the women said. Both described instances when they got so fed up with it that they confronted him — although it didn't make a difference, they said.
One night "I saw him and I pushed him up against the wall and I just started screaming at him, and I said, 'How would you like it if somebody did this to you every night before you went on stage? I'm sick of it'," Rossetter said. "And for three days, he didn't bother me. And then he started again."
All the women say that they are sharing their stories with trepidation, but that they're determined to shine a light on what they say they endured.
"As hard as it is, I think I want to choose truth over shame," Thomas said.