Sea turtle trapped by growing drug scourge — cocaine
Comments
By Tracy Connor with NBC News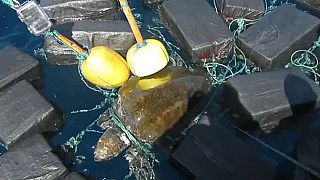 Copyright

U.S. Coast Guard

-
Cocaine appears to be making a comeback in the United States, and Coast Guard patrols are used to finding bales of the white powder floating on the surface of the sea or hidden in small boats or even homemade submarines.
But what the crew of the cutter Thetis encountered in the eastern Pacific during a two-month mission was a surprise: a sea turtle trapped by the contraband.
Commander Jose Diaz told NBC News that a military plane spotted the debris field and his team moved in to inspect.
There were 26 rectangular packages containing cocaine strung together, likely jettisoned from a go-fast vessel.
"They probably felt the heat coming and got rid of it," Diaz said of the smugglers.
The turtle was entangled, lines wrapped around its neck and fins. "There were some marks on her neck, so she may have been there a day or two," Diaz said.
The guardsmen freed the turtle from the jumble and seized the drugs -- more than 800 kilos of cocaine, authorities said.
The cutter was part of Operation Martillo, an international effort launched in 2012 to target trafficking routes along the Central American coast. In the latest patrol, the overall operation seized 7 tons of cocaine worth $135 million, officials said.
While opioids remain the greatest drug threatin America, cocaine availability and use are "rebounding," reaching or passing levels not seen for a decade in some cases, according to the Drug Enforcement Administration.
The vast majority of the cocaine in the United States comes from Colombia, where more of it is being cultivated at purer levels than in the past. As part of the 2016 Colombian peace deal, the rebel group FARC is supposed to end its involvement in the drug trade, but the DEA already thinks higher profits means farmers hiked their output in 2017.
While cocaine use dropped in the U.S. between 2009 and 2013, in 2014 it was up to 1.5 million people who had taken it in the last month. That number jumped to 1.9 million people in 2015, the DEA said in its annual drug assessment report, released in October.
The Centers for Disease Control reported drug deaths involving cocaine were up 2015 for the third straight year, hitting 6,784, although many of those also involved opioids or other illegal drugs.
Usage doesn't necessarily translate into addiction. Phoenix House, which serves 18,000 drug abusers in 10 states a year, said it had not seen a significant uptick in clients with cocaine problems.
But it takes time for addiction to grab hold. And in the DEA's view, at least, cocaine is poised to become more popular.
"The United States can expect to see increased levels of cocaine supply and use, at least through 2018," the agency's report said. "As coca cultivation and cocaine production in Colombia increase, the United States will very likely see continued increases in cocaine-related deaths, new initiates, seizures, and positive workplace drug tests."