Austria's new government to be sworn in after controversial deal with far-right
Comments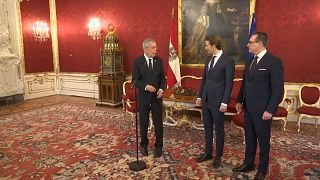 Austria's new coalition is being sworn-in today, which will make it the only western European state with a far-right presence in government.
At 31 years-old Sebastian Kurz will also become Europe's youngest leader.
At the weekend Kurz and his conservatives ( The Peaople's Party OVP) struck a controversial deal to share power almost equally with the far-right Freedom party lead by Heinz-Christian Strache.
The FPO will not only take the Vice Chancellorship but will also also control foreign, interior and defence ministries.
As part of the horse trading to form a government the FPO which ant-immigration is insisting on a reduction in the numbers entering the country and a cut in benefits to refugees.
It has however had to give up on wanting a referendum on Austria's membership of the EU and Austria's president said he's been reassures the new coaltion will remain pro-European.
It is not the first time the Freedom party has been in government. It was part of a coalition government between 2000 and 2005. There was uproar at the time among EU leaders, and bilateral diplomatic relations were frozen in protest.
The response this time is likely to be more muted, given the increased support for other rightwing populist parties across Europe. Similar parties have not, however, had the same success. Marine Le Pen, the leader of France's Front National, lost in May's presidential election and the Dutch anti-immigration Freedom party of Geert Wilders was defeated.