Colombia's ELN stand their ground while talking peace
Comments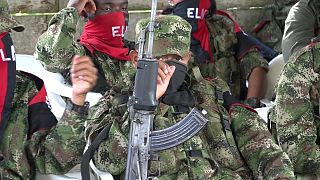 Sunrise on a Colombian peace?
"A big part of the rulers' legitimacy is based on people's fear"

ELN Commander
As soon as the sun rises the ELN begins its training, this morning like every morning since
1964. They are Colombia's last major rebel group following the disarmament of the FARC.
The National Liberation Army granted euronews rare access to its camps deep in the jungle.
While the FARC financed itself through involvement in Colombia's flourishing drug trade, the ELN preferred kidnappings and extortion.
They number about 1,800 men under arms, and they are negotiating their own peace agreement with Colombian Government. They signed a historic truce in October 1st after a half-century of fighting.
But many doubt it will be extended beyond the early January deadline. Uriel, an ELN commander, blames the government for the fragility of the negotiations..
"They pay lip service to having the will for peace will, but we don't see facts in practice. We see more war facts. We see more murdered leaders. We see more declines in health," he says.
#Colombia's Other Insurgents: Why #Peace With the #ELN Is Proving Elusive, writes jbargent1</a> via <a href="https://twitter.com/WPReview?ref_src=twsrc%5Etfw">WPReviewhttps://t.co/6nuBj9nqg8

—

LATAM

POLITICS

(@LATAM_POLITICS) 23 novembre 2017
A question of trust
The ELN distrusts the government because of changes made to the deal signed with the FARC.
"We thought that the deal was safeguarded, that is how they presented it to public opinion," continues Uriel. "The Special Peace Justice safeguarded it, that was what gave the FARC judicial security, and that was agreed one year before the final accord. The UN and the international community endorsed this safeguard. And what are they doing now? They changed it!"
The ELN seeks a deal that ends inequality in Colombia. Both it and the FARC were formed in the same year to fight for land rights and protect poor rural communities.
They do not think that the deal with FARC guarantees any of this.
Commander Julio shares Uriel's reservations.
"We are the National Liberation Army and the old men that sit in Quito talking have to be very careful and look at the fine print. Because the pact that they made with the FARC in Havana is an example for us how not to do it," he insists.
Why is georgesoros</a>&#39; <a href="https://twitter.com/OpenSociety?ref_src=twsrc%5Etfw">OpenSociety "directly" involved in #Colombia's electoral process? Isn't this a private foundation? Is FARC in the mix?POTUS</a> <a href="https://twitter.com/WhiteHouse?ref_src=twsrc%5Etfw">WhiteHouseStateDept</a> <a href="https://twitter.com/USEmbassyBogota?ref_src=twsrc%5Etfw">USEmbassyBogotageopolytica</a> <a href="https://twitter.com/FernandoAmandi?ref_src=twsrc%5Etfw">FernandoAmandilia_fowler</a> <a href="https://twitter.com/GiuseppeNoc?ref_src=twsrc%5Etfw">GiuseppeNocpic.twitter.com/8TMmfUmvc2

— O. Bula Escobar (@omarbula) 11 décembre 2017
Keeping up their guard
A year after Colombia's peace deal with the FARC, problems persist. The ELN maintains a state of readiness while negotiating.
Guerrilla History is taught in ELN classrooms. Rifles mix with notebooks. The ELN has a similar half-century's heritage to the FARC's, but it has always lived under its shadow.
Commander Uriel says this made life more difficult for the ELN.
"We were invisible to the press. In the FARC times, everything was FARC. Even ELN actions were attributed to them, the ELN didn't exist. When the FARC demobilized, they need to talk up a new enemy, because a big part of the electorate and a big part of the rulers' legitimacy is based on people's fear."
Fighting has continued or even intensified in some areas since the FARC laid down its arms. Other groups are moving into these areas because of their natural resources and drug traffic routes.
#Colombia: Paramilitaries Kill Land Rights Activist. Hernan Bedoya was the second activist from the group, Communities Constructing Peace, Conpaz, to be killed in 10 days. https://t.co/Ugg3ICMpXIpic.twitter.com/1sfyRV9Ilj

— Amanda *$ (@Starbuck) 13 décembre 2017
The ELN has also financed itself by collecting taxes on coca growers and illegal mining operations. The European Union considers them a terrorist organization
Uriel is dismissive of Europe's position.
"We know that the EU is part of worldwide imperialism. That they joined together precisely to provide a better counterpart to the dominant North American imperialism"
They are convinced that weapons are necessary
"Do you want to end the guerrilla? It is in your hands. How? Take us and our arguments out of the equation. When people have everything they need to live and opportunities, why would they consider guerrilla warfare an option? Who is capable of raising a guerrilla in Norway or Finland?" points out Uriel.
Now at #asp16: side event on the #Colombia peace process and victims' rights ngos4justice</a> <a href="https://twitter.com/ASFCanada?ref_src=twsrc%5Etfw">ASFCanadapic.twitter.com/z3UMGX0yLc

—

CPIJ

|

PCJI

(@CPIJ_PCJI) 12 décembre 2017
Hoping for better, fearing the worst
Preparations are frenetic. They think that if they do not renew the truce, the army will hit them with everything it has.
"We have to be prepared because when it is over we are going to keep fighting," says one soldier.
Fifty years of armed conflict has cost 260,000 lives and displaced seven million people. But
peace talks in Ecuador have been overshadowed by two acts of violence involving the ELN.
More than 30 people died, they we're killed by #ELN , against a groupon called, "The New Pacific Guerrilla". They're fighting for coca and gold control, the FarcSantos Peace$. The news are not saying the truth

— Claudia Patricia (@Estrcp) 29 novembre 2017
"The ELN continues training in case of an eventual failure of the Quito peace negotiation. Next year sees elections in Colombia. A victory for Alvaro Uribe's opposition faction, which is already against the Havana pact signed with the FARC, could introduce new conditions into the ELN talks. They may not be acceptable for this guerrilla force," reports euronews' Héctor Estepa from the rainforest at Chocó, Colombia.
Wow. In #Colombia's income inequality went from "bad" to "worst in Latin America, in virtual tie with #Honduras." The Pastrana and Uribe years took a toll.

From AmerQuarterly</a>: <a href="https://t.co/eywogXuaFG">https://t.co/eywogXuaFG</a> <a href="https://t.co/2bw04CWw5P">pic.twitter.com/2bw04CWw5P</a></p>&mdash; Adam Isacson (adam_wola) 9 décembre 2017