#MeToo movement jolts Iceland as women speak out
Comments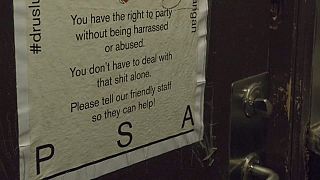 Despite Iceland often being presented as a frontrunner for gender equality and women's rights, the outpouring of grievances on sexual misconduct prompted by the "#MeToo" campaign have been a wake-up call.
In late November, Icelanders gathered in the capital to protest against sexual misconduct - sharing stories of abuse and harassment.
"We just realised that a lot of these things are happening when people are partying. So if we can both remind people not to harass and people that have been harassed that they did nothing wrong, and that they should talk to bar staff," said anti-harassment activist Helga Lind Mar.
One secondary school near the capital is teaching a pioneering course on gender studies, discussing gender-based discrimination, from stereotypical gender representations in media all the way to sexual violence.
"The aim is to (…) get them to realise where the discrimination is, how to react on it, it's also to empower them to take action against the harmful messages that they're getting," said teacher Hanna Bjorg Vilhjalmsdottir who created the course 10 years ago.
She was met with skepticism when she first suggested it but now a version of the course is available in 27 out of the 33 high schools in Iceland.
Eighteen-year-old Tinna Karen Victorsdottir said the discussions held in this course have filtered into her daily life.
"Every class I go home and I have something new to bring to my parents," she said.
Over the past weeks, she said, her parents have changed their behaviour, with her father taking on new household chores.
"Iceland is not a safe haven for women. When you have a gender-based violence in such great proportion you can not look at a country as a safe haven," says Professor of Gender Studies, University of Iceland, Gyda Margret Petursdottir.
Iceland may have a female prime minister; indeed, it had the world's first female president, and it enjoys some of the world's strongest laws on workplace equality and equal pay. But it also has one of Europe's highest per-capita levels of reported rapes, according to statistics agency Eurostat, although legal definitions differ from country to country, complicating comparisons.
A 2010 University of Iceland study found that 30 percent of Icelandic women aged 18 to 80 have been physically attacked by a male at least once, of which 13 percent experienced rape or attempted rape.
"There are stories about ministers ogling female politicians' behinds when the members are going onto the podium to deliver speeches. So this is happening here as well, and that's something we have to address," says Left-Green Movement MP and the organiser of the parliamentary discussion group on gender equality, Andres Ingi Jonsson.
Fighting sexual harassment, feminist groups have been active in working with nightclubs and bars to raise awareness of abuse and offer solutions.
Posters and stickers have been put up in several establishments across the capital to urge victims to seek help from members of the staff.
Over the past weeks, hundreds of women in politics, entertainment and academia have signed a pledge against sexual harassment and urged male colleagues to change their behaviour.
Jonsson hopes to answer that call with his creation of a small group of male parliamentarians to actively discuss the plight of sexual harassment in parliament.
Iceland may be far from perfect, but its politicians have taken gender equality seriously.
For nine years in a row, the World Economic Forum has ranked Iceland as having the world's smallest gender-equality gap.
Icelandic law requires private companies to have at least 40 percent women on their board and offer men parental leave equal to women.
Starting next year, the Equal Pay Law will audit companies to prove that they are paying men and women the same amount for comparable work.
For Vigdis Finnbogadottir, Iceland's President from 1980-1996, "Iceland is well along the way for gender equality but it is not there."
But she believes that society needs the courage to speak up "every day" about the injustices.