Defending the EU in the digital age
Comments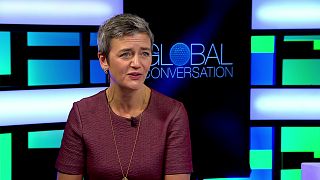 She's usually described as the most powerful woman in Brussels as she is trying to hold Silicon Valley's tech giants to account. Denmark's Margrethe Vestager, the EU's top anti-trust regulator is our guest on Global Conversation.
If you don't handle the negative side of big data there is always a risk of a backlash

EU Competition Commissioner
What has changed since you ordered that Amazon and Apple should repay huge amounts of money in back taxes to Ireland or Luxembourg?
Have you seen any change in their tax policies?
I don't think that you see change that fast. What's happening is that they are having good progress in collecting the Amazon unpaid taxes and with the Irish we've had to ask the European Court to look into it, because the Irish should collect the unpaid taxes as well because now it's already done in the Netherlands, in Belgium, in Luxembourg, and I think that's a good thing.
But if we see the recent scandals such as the Paradise Papers, isn't this proof that the EU is quite powerless against the tax avoidance structures widely used by multinationals and also by some member states?
The fact that we have these leaks and now we have many, luxleaks, the Swiss leaks, the Panama Papers, the Paradise Papers, I think it shows that things are changing, that the secrets are coming out. It's leaked everywhere. And this allows us to do something about it. I can do my bit, but member states can change legislation and implement legislation so that it stops.
Tomorrow EU countries will agree on the first common EU list of tax havens.

Stay tuned for more information on the #EUList tomorrow. pic.twitter.com/HENmxdwtl7

— EU Tax & Customs (@EU_Taxud) December 4, 2017
Recently in an interview the prime minister of Luxembourg said "is it in Europe's interest that companies should pay more taxes in Europe than in the U.S. or Asia"?
For me it's very simple. Where you make your profits, where you have your customers and you do your business, you should also contribute to the society. Because you can do no business if there are no roads, no digital infrastructure, skilled people, customers, all the things that make a decent society. And of course you should contribute there as well as anyone else.
"it makes no difference whether that subsidy is a handout in cash, or special tax treatment that means a company pays less tax than its rivals. Consumers lose out on lower prices, wider choice, more innovative products" vestager</a> <a href="https://t.co/6JLxBj55cJ">https://t.co/6JLxBj55cJ</a></p>&mdash; EU Competition (EU_Competition) November 28, 2017
Apart from that, you have some big cases against Google. If I'm not wrong, you have three cases. What's the latest?
The first one we have concluded, and ordered Google to pay a 2.4 billion euro fine. That is being taken care of, Google are in the process of implementing what they had to do. We have taken no decision yet, we are monitoring it but we don't know yet if it works as it should, that remains to be seen. And then of course we continue to investigate the two other cases about how Google has been using the operating system Android to stay dominant in search also when we all go mobile. The last case is about AdSense which is about advertising because basically Google is an advertising company. So, of course it is important to see how they use their "muscle", do they allow for others to do what they themselves did, compete, innovate, be present in the market and present products to customers?
Recently many national authorities opened investigations into how these companies collect and use information and I quote the President of the Italian authority who said that "big data is a resource for our economy but it could be a problem especially when big data creates a big market power that can be used to foreclose competition". Do you share his view?
We use to think about money as an asset, but data can be the same asset. Because this is the new kind of currency when we pay, when we use a search machine or another service, another digital service, we pay by giving up our data for them to use to make our profiles, to sell to advertising companies of all kind of different thoughts. So, it's a source of innovation, it can be a barrier to entry and since it can be a barrier to entry, of course if you build huge amounts of data, it can also foreclose the market. So no one else can come and show what they have invented. And I think it's important that we get this right in order to get all the positives of big data. Because you can do amazing research, you can find cures for certain types of cancer, you can enable traffic. You can do so many good things. But if you don't handle the negative side of data, of course there is a risk of a backlash. The people can say "but I don't feel in control".
When it comes to real politics, there were allegations of Russian interference to other countries' elections through social media. Do you share these fears and what should be done?
It's a giant wake-up call for all of us what seems to have been going on in the U.S. That one should be a critical citizen also on social media. You should definitely not believe everything you see. And you had to be a critical citizen back in the days when papers were on paper, but you have to be the same critical citizen today and I think that this Russian story has been a very concrete reminder that there are no shortcuts not to think by yourself.
But there is still some bad news in Europe, and not only Europe, for women. Because you are among very few women in top jobs, have you ever felt discrimination during your political career just because you are a woman?
I think I am being asked very different questions to men. About clothes, about what I do with my spare time, what kind of mother I am. But you know I am trying to turn it around and say, being a woman gives me the opportunity to be in power in a different way. Because I think we have to change power. Because over the decades, women have had to mould themselves into being not a man, but still kind of, in the suits, the haircut, speaking with the same level of voices. The thing we have to change is power. And maybe saying, yes, I am a woman, I am being treated differently but maybe this is one of the tools. Because this is not the old power game, it's not men's power that we want. It is power to be used for better purposes. And I think it will be extremely liberating for men as well.
Lively discussion on #women#leadership between our members and Commissioner vestager</a> <a href="https://twitter.com/hashtag/WILevent?src=hash&ref_src=twsrc%5Etfw">#WILevent</a> <a href="https://t.co/pTN7SWNBQ6">pic.twitter.com/pTN7SWNBQ6</a></p>&mdash; WIL Europe (WILEurope) December 5, 2017
You were the first female minister in your country, in Denmark. And I would like to ask you, because there are many reports saying that some leaders including Emmanuel Macron would like to see you as the next Commission President. Would you go for it? Becoming the first female Commission President?
Well, I've heard the rumours too and that of course reminded me that European politics is like Danish politics.There are a lot of rumours going around. Mostly what I think about it, I take it to heart as a compliment, that people could think about you doing something in the future. But that is basically what I think about it because you know, I have a day job to do.