Amnesty International report on Libya sounds alarm in Brussels
Comments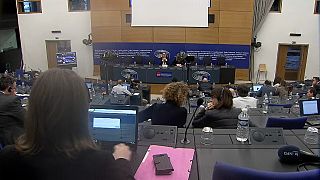 The Amnesty International report on Libya has put the cat among the pidgeons in Brussels and the European parliament. Europe's migrant policy is flawed and its critics sense it is time to pounce.
"The Socialists and Democrats have made the defence of human rights in Libya's detention centres a priority, and so has the Italian government. We have frequently asked the international community to intervene, so we don't have camps but proper reception centers that respect the rights of these people," said the Group Leader of Europe's Progressive Alliance of Socialists and Democrats Gianni Pitella.
"We have to first see how we can help and rescue the people who are currently in detention and slavery in Libya. The billions go into Libya from Italy and this is not something that happened yesterday, this has been going on from many years. So, what happens? The money ends up with militia, terrorists and corrupted politicians. It's really what we want to spend our tax money on?"said the Alliance for Liberals and Democrats Sophie in 't Veld.
This is a controversy that is not going away any time soon for the EU.