Turkey slams US justice system over gold trader bribe claim
Comments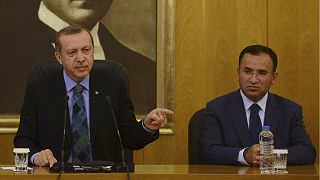 Turkey has slammed the US justice system after a controversial gold trader told a New York court that he had bribed a former Turkish economy minister as part of a vast money-laundering scheme.
Turkish-Iranian trader Reza Zarrab told the court that he had paid Zafer Caglayan bribes amounting to more than 50 million euros to facilitate deals with Iran, which was under sanctions at the time over its nuclear programme.
Turkey's Deputy Prime Minister Bekir Bozdag said Zarrab had been "pressured into committing slander".
Zarrab was arrested by US officials in 2016 for his role in the alleged scheme used by Iran to evade US sanctions through a state-owned bank in Turkey.
However, he struck a deal with prosecutors to testify against his former co-defendant, Mehmet Hakan Atilla, a former deputy chief of the Turkish state-owned bank Halkbank, who now faces a series of international corruption allegations.
The case has strained relations between NATO allies Ankara and Washington, with the Turkish government saying it was fabricated for political reasons.
Speaking to state-run news agency Anadolu, Bozdag called the trial a "theatre".
He added that he did not expect "justice" in the case.
With agencies