Mladic conviction stirs up painful memories
Comments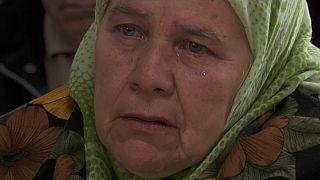 Twenty-two years on, the families of those slaughtered in the Bosnian town of Srebrenica say nothing will ever erase their pain, but justice has finally been served: Ratko Mladic has been sentenced to life in prison for genocide.
The former Bosnian Serb commander was found guilty of leading ethnic cleansing campaigns, including the July 1995 massacre in Srebrenica, where some 8,000 Muslim men and boys were separated from the women and executed within days.
"For so many years we've waited for justice to be served. And it was served today," one victim's relative told Euronews. "We are satisfied with the verdict. Those who've killed should accept it too."
Mladic, dubbed the "Butcher of Bosnia", was convicted by a U.N. tribunal on 10 counts of war crimes including the siege of Sarajevo in which over 10,000 civilians died from shelling and sniper attacks, and the expulsion of hundred of thousands of non-Serbs during the 1992-95 conflict.
Stillborn reconciliation
Wednesday's verdict, the last major case before the International Criminal Tribunal for the former Yugoslavia (ICTY) after 24 years of work, stirred tension in a region still scarred by the 1990s Balkans conflagration.
Bosnian Serb leader Milorad Dodik, who frequently threatens the secession of the Serb region from Bosnia, said the tribunal's judgement of Mladic only proved its bias against the Serbs.
Some even dispute the label of genocide – including the mayor of Srebrenica.
"This is a verdict that the Serbian people expected. Another verdict would have been the real surprise," Mayor Mladen Grujicic told Euronews.
"Not because Ratko Maldic is guilty, but because we all know what the Hague Tribunal (e.g. the U.N. Criminal Tribunal for the Former Yugoslavia) has been set up for and this ruling proves it: it was to judge the Serbian people."
But Bakir Izetbegovic, the Muslim Bosniak member of Bosnia's tripartite presidency, said: "No people, including Serbs, should call Mladic a hero… glorify criminals and decorate war criminals."
"I hope this verdict will bring about such kind of sobering in Bosnia," he added.
The opinions underscored the stillborn reconciliation process in the federal state, now divided into an autonomous Serb Republic and Muslim-Croat federation.
Now synonymous of ethnic cleansing, Srebrenica has become a shrinking town where Bosnian Muslims (Bosniaks) and Bosnian Serbs continue to live side by side, but still suspicious of each other.