Paris and Amsterdam snatch London's lost EU agencies
Comments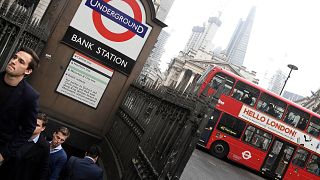 Two major EU agencies are leaving London because of Brexit, and Paris and Amsterdam are greeting them with open arms.
In a sign of how precious the spoils were for other EU countries, Monday's vote on their relocation was so tight it left both result decided by drawing lots in a glass bowl.
Eight cities had bid for The European Banking Authority (EBA), but three rounds of voting by EU member states failed to produce a winner, and the French capital was ultimately picked over Dublin in a lucky dip.
Eastern governments were left empty-handed. Frankfurt, home to the European Central Bank and hoping to become the EU's main financial centre after Brexit, was badly beaten in the second round of EBA voting.
Set up in 2011, the EBA is best known for its stress tests, introduced to avoid a repeat of the 2008 financial crisis.
European Medicines Agency (EMA) and the European Banking Authority (EBA) from London to Amsterdam and Paris.

The relocation of the two EU Agencies is a direct consequence and first visible result of #Brexithttps://t.co/ruqcekdcVC

— European Commission (@EU_Commission) November 20, 2017
Sad and ironic that if Scotland had voted Yes to Independence in 2014 we could have been attracting these agencies. #Brexit#Indyref2pic.twitter.com/1AoDkPVxej

— Hannah Bardell (@HannahB4LiviMP) November 20, 2017
Amsterdam to host drugs regulator
The European Medicines Agency (EMA) which approves new medicines in the EU and has 900 staff, will for its part move to Amsterdam.
The Dutch capital was tied with Milan in a vote that was then also decided by the drawing of lots.
Italy's EU affairs minister said it felt like "losing a final on penalties."
Eastern European countries had argued they should get the EMA because they don't already have an EU agency. But EU member states may have been keen to ensure a smooth transition for the agency, and it turns out Amsterdam was EMA employees' preferred destination, according to a recent staff survey.
In all, 19 cities had bid for the agency, which is set to attract further pharmaceutical jobs and research. It should also give a boost to Amsterdam's hotels, as thousands of experts fly in for EMA meetings each year.
Amsterdam will be the new location of the European Medicines Agency

Background info on the relocation of the UK-based EU agencies: https://t.co/MasW1n0Gohpic.twitter.com/KDbMvmoWRA

— EU2017EE (@EU2017EE) November 20, 2017
Banks moving staff overseas
Losing these two agencies is a blow for London, but the worst may be yet to come.
A Reuters survey has found that if the UK loses access to the European single market, almost 10,000 finance jobs could move overseas.
The financial sector accounts for about 12 percent of Britain's GDP and it brings more tax than any other sector.
Several major banks have already warned they would start moving staff over to other cities, such as Frankfurt, Dublin and Paris.
UPDATED: Britain just lost two major EU agencies employing 1,000 people because of Brexithttps://t.co/YhcAe61lnupic.twitter.com/bJ4KQ9Oya3

— Mirror Politics (@MirrorPolitics) November 20, 2017