Turkey bans all LGBTI events in capital Ankara
Comments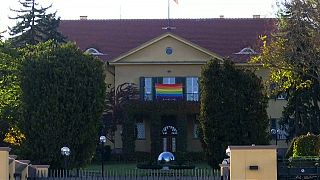 Turkey has banned all events by lesbian, gay, bisexual, trans and intersex rights groups in its capital Ankara.
Authorities say it's been imposed to protect public security.
The restrictions will last for an 'indefinite' period, applying to all LGBTI film screenings, theatres, panels and exhibitions.
The governor's office claimed such events may cause animosity between different groups and endanger "health and morality", as well as the rights and freedoms of others.
It warned some groups may be provoked by LGBTI events and take action against participants due to "certain social sensitivities".
It comes after a German gay film festival was banned on Wednesday a day before it was due to take place.
Four movies by German directors were to be screened as part of the German LGBT Film Days.
Gay pride parades have been banned in Istanbul for the last two years running
Unlike many Muslim countries, homosexuality is not a crime in Turkey.
But there is widespread hostility and rights activists say LGBTI people face discrimination and stigma.
The announcement by Ankara's government is likely to deepen concern about civil liberties under President Recep Tayyip Erdogan.
The screenings had been supported by the German embassy in Ankara, where an LGBT flag can be seen hanging over the balcony.