Woman struck by lit flare during Greek protest (warning: graphic content)
Comments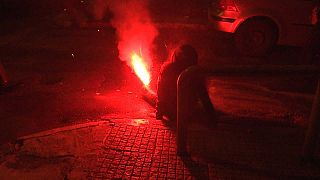 Exclusive Euronews images have captured the shocking moment a woman was struck in the knee by a flare during clashes between protesters and police in Athens.
The woman is shown falling to the ground and screaming in pain, as emergency services attempt to put out the lit flare that appears to be lodged on her left leg.
She has been identified as a lawyer who was talking to photojournalists before being hit on Friday night (November 17). She was immediately taken to hospital.
Rioters filled the streets of Athen's Exarchia district after thousands marched peacefully to mark 44 years since a student uprising helped to overthrow military rule.
As the annual march was coming to an end, hooded youths began rioting with stones, gas bombs and flares, starting a conflict with local police. Officers responded with tear gas, stun grenades and helicopters in an attempt to disperse the crowds.
More than 5,000 officers were on duty for the annual march towards the US Embassy, which some say supported the Greek military dictatorship that lasted from 1967 to 1974.
The march is often used by Greek citizens to express their discontent with current political measures.
On the ground reporter: Michalis Arabatzoglou
Camera: Giannis Dolas