Euro zone still needs cheap credit: Draghi
Comments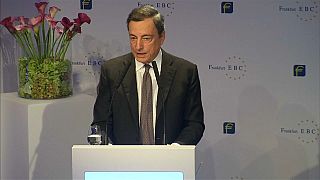 The euro zone remains hooked on cheap credit and the plug won't be pulled anytime soon.
That was the message of European Central Bank President Mario Draghi, speaking at the Frankfurt European Banking Congress on Friday.
Draghi said the ECB was becoming increasingly confident that the euro zone's economic recovery would continue, but sluggish growth in wages meant monetary policy needed to remain easy.
"A key motor of the recovery remains the very favorable financing conditions facing firms and households, which are in turn heavily contingent on our policy measures," he said.
The ECB's ultra-easy monetary policy has sparked some fears of a new credit bubble, but Draghi says ECB research shows an overall favorable effect on the economy.
"The drivers of growth are increasingly endogenous rather than exogenous," he said.
"In the early phase of the recovery, its main motors were falling oil prices and monetary policy. Now, we see more signs that growth is feeding on itself, i.e. spending multipliers and endogenous propagation are again supporting activity."
The ECB is on course to buy 2.55 trillion euros worth of bonds after deciding last month to continue buying bonds until September 2018, or beyond if needed.
The extension of the program aims to allay any fears of a rise in borrowing costs, Draghi said.
The ECB has also pledged to keep its interest rates at their current record low levels for at least another year – "well past" the end of its bond buys.