At what age is sex with a child assumed nonconsensual, if at all, in different European countries?
How young does a minor have to be for a sexual relationship with an adult to be considered nonconsensual? If they are a minor, should non-consent be assumed?
As these questions are raised in France thanks to the particularly controversial acquittal of a man who was tried for the rape of an 11-year-old girl, how does the age of consent and definition of child rape vary across Europe?
It is difficult to draw comparisons between countries when the way legal systems treat sexual abuse cases involving minors varies greatly.
In the recent French case, prosecutors ruled that the offence was not rape, as there was no evidence of violence, constraint, threat or surprise, with the country's law categorising offences relating to sexual interactions between minors and adults under "sex offences" rather than "rape".
By contrast, in the UK, Germany and Spain there is a minimum age beneath which the non-consent of a minor is assumed.
Euronews gathered data which establishes five categories across the continent, with ages of consent ranging from 14 to 18.
14 years old
In seven European countries (Austria, Bulgaria, Estonia, Germany, Hungary, Italy and Portugal), jurisdiction dictates individuals can consent to sex at 14 years old.
15 years old
Nine countries put the age of consent at 15: Croatia, the Czech Republic, Denmark, Greece, Poland, Romania, Slovakia, Slovenia and Sweden. A sexual act with a person under this age is considered rape.
The law in France doesn't explicitly evoke the notion of sexual consent but does outline sanctions in case of non-consent for those who have abused minors under 15 years old.
16 years old
In Belgium, Lithuania, Latvia, the Netherlands, Great Britain, Spain, Finland and Luxembourg, the law specifies that anyone under 16 years old is considered a minor in sexual cases.
17 years old
Finally, only three countries consider that only those over the age of 17 can consent to sex. The law in Cyprus puts the age at which an individual can consent at 17 and in Ireland and Malta the age is 18. Before this adults will incur jail sentences for sex with a minor.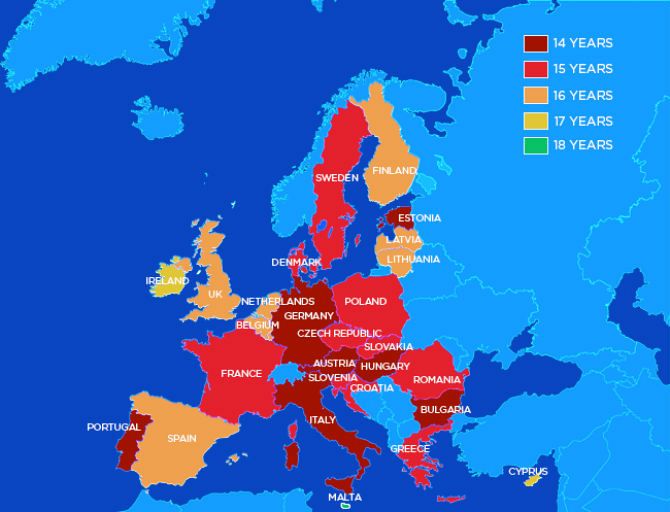 Some countries in Europe also take into account factors like the age difference between the two parties, if the difference is large this can sometimes result in greater punishments in Cyprus or Malta.
The recent instance of the 11-year-old in France sparked discussion on how to close the legal loophole displayed in the case.
Ministers are hoping to change the law with ministers wanting to change the law so that absence of consent is presumed when the victim falls below a certain age, like in the UK and Germany.