Australian refugee detention centre being dismantled
Comments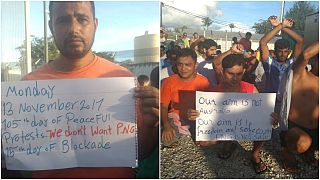 Images from asylum seekers show the start of the eviction of hundreds of men inside an abandoned Australian detention centre in Papua new Guinea.
The refugees refused to leave the Manus island camp two weeks ago, despite power and water being cut off.
Some 450 men have been barricaded inside the camp.
One video from inside had commentary from a man.
"Immigration (are) here and police came back again to break the tank (water) and now look they are breaking the place, to empty all the water left inside."
The asylum seekers have refused attempts by Australia and Papua New Guinea to be moved to three other transit centres.
The men are mostly from Afghanistan, Iran, Myanmar, Pakistan, Sri Lanka and Syria.
They say they would fear for their safety if moved to local transit facilities, with some hoping to get to the US under an earlier deal.
The camp closed at the end of last month after being declared illegal by a Papua New Guinea court, sparking protest in support of the asylum seekers.