Australia pays millions in compensation to refugees
Comments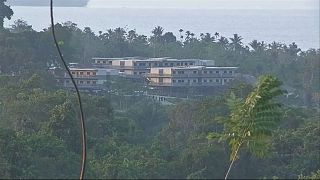 Nearly 2,000 refugees held in a remote detention centre in Papua New Guinea are to receive the equivalent of 47 million euros in compensation after the Australian government agreed to settle their court case on Wednesday.
The camp on Manus Island is one of two such facilities for processing asylum seekers that have attracted widespread criticism from the United Nations and rights groups because of their harsh conditions and claims of abuse.
Campaigners have hailed the payout of A$70 million ($53 million) as a victory for human rights.
People are still trapped on #Manus and Nauru #BringThemHerehttps://t.co/PxrlAWbu9hpic.twitter.com/sXXnmIfoZK

— Amnesty Australia (@amnestyOz) 14 juin 2017
"This settlement is an important step towards recognising the extremely hostile conditions that the detainees have had to endure at Manus Island," said Andrew Baker, a lawyer representing the detainees.
"Most were fleeing religious persecution and violence. They came to Australia seeking protection, but rather than consider their cases onshore, the Australian government sent this vulnerable group of people to be held on Manus Island indefinitely."
Australia has a strict policy of not allowing asylum seekers who try to reach the country by boat to settle there, instead detaining them in the Pacific camps – the other is on the tiny and remote island of Nauru.
UN denounces Australia's "inhumane treatment" of asylum seekers detained off-shore with physical/psychological harm. https://t.co/sUNkliO8Kspic.twitter.com/kFUfj5HWlm

— Kenneth Roth (@KenRoth) 14 juin 2017
Some 1,905 men who were detained at the facility between November 2012 and December 2014 filed legal claims last year against the Australian government and two contractors who ran the camp. Many of the claimants
remain on Manus Island, while others have returned home.
Majid Kamasaee, the original plaintiff in the case, was one of those who agreed to return to his native Iran.
Kamasaee said he voluntarily left Manus Island because he was denied adequate medical care for a serious skin condition.
"When I arrived on Manus they confiscated my medicine. Everyday in the harsh sun my skin felt like it was on fire," Kamasaee said in a statement read out by lawyer Ebony Birchall.
"The scars got worse and then developed growths. I was in pain every minute of every day on Manus Island," he said.
Authorities deny the allegations of mistreatment but say the settlement avoids a long and costly court case. Immigration Minister Peter Dutton described settling the case as a "prudent" decision.
Peter Dutton says multimillion-dollar settlement to be paid to Manus detainees is 'prudent' outcome for taxpayers https://t.co/7ZZOluLjQP

— The Australian (@australian) 14 juin 2017
Australia agreed on a refugee resettlement deal with the United States late last year, under which the bulk of those detained at the two camps would be relocated and Australia in turn would settle refugees from Central America.
US President Donald Trump has begrudgingly agreed to honour that deal despite earlier calling it "dumb".
with Reuters