No-one is immune from crackdown, says Saudi foreign minister
Comments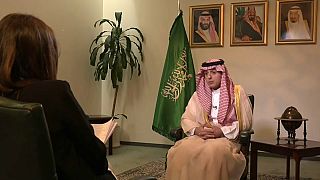 Saudi Arabia has taken the world by surprise by carrying out a crack down on corruption which saw the arrest of several top-ranking officials.
The 32-year-old Crown Prince Mohammed Bin Salman wants to modernize the way of doing business in Saudi Arabia.
In an interview with CNBC, Saudi Minister of Foreign Affairs, Adel Al-Jubeir, says the purge sends a signal change is on the way and will increase investor confidence in the country.
It shows that we have adopted a zero-tolerance policy on corruption, just as we have adopted a zero-tolerance policy on terrorism and extremism and terror financing," he said. The kingdom of Saudi Arabia, the custodian of Two Holy Mosques announced more than two and a half years ago that he will fight corruption and he will fight it robustly. And his royal highness the Crown Prince has made it very clear that no prince and no minister and no high-ranking official is immune from corruption charges."
The foreign minister says the crackdown means foreign investors can come into Saudi Arabia and compete on an equal footing with everybody else and shows the Crown Prince is trying to break decades of conservative tradition.
"It means the country is moving on the right track. That the country is opening up, that the country is implementing its 20/20 national transformation plan to make government more efficient, more transparent, more accountable," he says. "It means we have to empower our youth, we empower women. We moderate, we adopt and push for a moderate Islam so that people can live normal lives in our country.They can realise their hopes and dreams and ambitions and in the process make our country much greater than it is."