Russian 1917 revolution - internet style!
Comments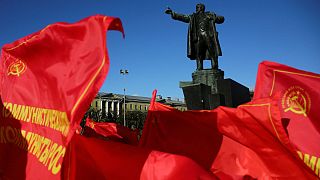 The outbreak of the Russian Revolution back in 1917 but imagine how it would look on today's internet.! To bring history alive Project 1917 has trawled newspapers, archives , letters and other information from people who lived at the time and turned them into TV reports, tweets and facebook posts
Andrei Borzenko, deputy editor in chief of project1917 read the latest breaking news:
"Bolsheviks have taken the State bank and telephone station in Petrograd. Prime minister Kerensky is searching for troops to protect the Winter Palace. Several thousands marines are heading from Helsinki to Petrograd. These are live events as the Bolshevik Revolution unfolds."
At the time there was plenty of information … much of the contemporaneous accounts were from people just observing events who couldn't possibly know how it would all turn out.
Andrei Borzenko added that one of his favorite characters was a diplomat Lev Urusov:
"We found his diary which we've put on our news stream…" The Bolsheviks have acted, " he said. " Everything is happening so easily as if it was meant to be…we are surprised and ask ourselves how Kerensky could sleep away his power."
The authors of the project believe it will help engage today's generation with past events that are still having an impact on their lives. Also that modern social media is just another way to record history.
And for those who want to know the latest 1917 headlines, from a celebrated Russian TV anchor the question on everyone lips is "Where can Lenin hide?"